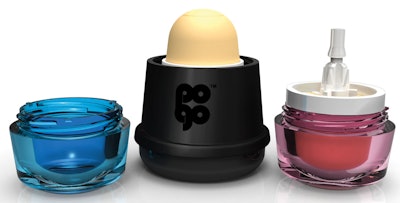 Eco Lips Inc., Cedar Rapids, IA, in collaboration with Ontario, Canada-based packaging designer Intel Plastics Inc. ([email protected]), has successfully rolled out a uniquely packaged lip balm line called POGO™. The container design uses a 100% recycled matte plastic body that can be refilled with replaceable lip balm cartridges. The cartridges are held in place by a soft flexible rubber base. Topping off the container is a clear molded plastic cap. All processing and packaging is being accomplished in-house at the Cedar Rapids facility.
The refill cartridges, rubber bases, and clear caps all are made with recyclable plastics. Details about the specific material structure and filling procedures are considered proprietary. The container design is patent-pending.
This innovative lip balm packaging approach has been the recipient of multiple achievement awards, including the 2016 Ameristar Award presented by the Institute of Packaging Professionals (IoPP).
POGO USDA-certified organic lip balms are being marketed in Target stores, Hy-Vee groceries, and on-line at www.pogobalm.com. Other nationwide natural product retailers such as ULTA also have come on board. These 0.15-oz balms are offered in a variety of flavors, including Apricot Peach, Iced Berry, Mint, Banana Split, and Vanilla Bean. Suggested retail price is $3.29-$3.99. Replacement cartridges are being attractively priced to encourage purchase of refills.
Jane Merten, VP of Sales & Marketing for Eco Lips, Inc., reports, "Since our soft launch in May 2016, we have received a great market response to the refillable lip balm concept. Environmentally conscious consumers appreciate ways to reduce landfill packaging waste. Refillables are a positive stop in that direction."