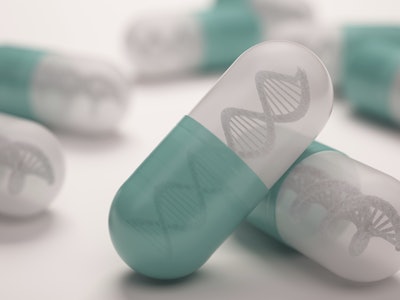 A tissue sample swabbed from inside a patient's cheek or a blood sample provides cells for a laboratory test that can help decipher that patient's personal genome. Based on the test results, a physician can judge what dose of warfarin will be the most appropriate to treat that patient's blood clot or prevent additional clots from forming.
This is an example of how pharmacogenomics (seen by some as part of a field called personalized medicine) work in actual practice, according to a June 5, 2015 article at mayoclinic.org.
The article said that the future of pharmacogenomics, "has much promise and has made important strides in recent years. It's still in its early stages. Clinical trials are needed not only to identify links between genes and treatment outcomes but also to confirm initial findings, clarify the meaning of these associations and translate them into prescribing guidelines. Nonetheless, progress in this field points toward a time when pharmacogenomics may be part of routine medical care."
The global genomics market is expected to reach US$22.1 billion by 2020, with a 10.3% Compound Annual Growth Rate from 2014-2020, according to a recent report by Grand View Research, Inc. as reported on globalnewswire.com.
The U.S. Food and Drug Administration's "FDA's Unique Role and Responsibilities in Personalized Medicine," says, "The term 'personalized medicine' is often described as providing 'the right patient with the right drug at the right dose at the right time.' More broadly, personalized medicine (also known asprecision medicine)may be thought of as the tailoring of medical treatment to the individual characteristics, needs, and preferences of a patient during all stages of care, including prevention, diagnosis, treatment, and follow-up."
FDA's report describes the ways in which the agency has worked to respond to, anticipate, and help drive scientific developments in personalized therapeutics and diagnostics.
Revolutionizing healthcare in BC
In a new Green Paper by PwC and The Personalized Medicine Initiative highlights how personalized or molecular medicine can improve quality of patient care while benefiting British Columbia's healthcare system, and the economy.
The Personalized Medicine Initiative (PMI) is an umbrella organization of personalized medicine stakeholders and resources in British Columbia that has the mission of introducing technologies enabling personalized (molecularly-based) medicine into the front lines of healthcare.
The Green Paper notes that the future of medicine will be data-driven and focused on creating personalized medicine for each patient based on their individual molecular profile. Personalized medicine would enable more precise diagnosis of diseases and guide therapeutic interventions, particularly in the treatment of cancer, infectious disease, heart disease, lung disease, and neurological disorders.
"Personalized medicine is on the brink of transforming medicine by making it tailored to, and effective for, each individual," says paper co-author Dr. Pieter Cullis, Director Life Sciences Institute, University of British Columbia. "Everyone has their own unique genomic blueprint and molecular makeup and this approach will help us to better match the therapy we prescribe to the disorder the individual has, which ultimately will improve outcomes and the efficiency of our healthcare system."
Personalized medicine primer
U.S.News & World Report's Health website provides an overview of personalized medicine.