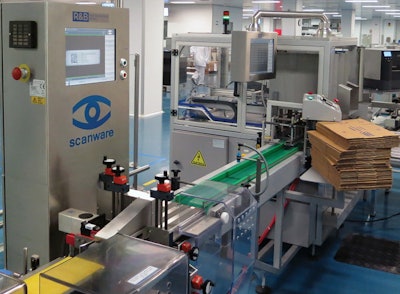 Late last year it was announced that Barra Funda, Brazil-based Libbs Farmacêutica Ltda., a maker of pharmaceuticals, biotechnology and biosimilar drugs, was involved in a project aimed at addressing aggregation and track-and-trace requirements posed by the Agência National de Vigilância Sanitária Agency (ANVISA).
Aimed at addressing pharmaceutical security in Brazil, ANVISA regulations require packaging units to be marked with a serial number, product registration identification, GTIN, lot number, date of production, expiry date as well as a DataMatrix code encoded with these details, providing a trail of the unit through the logistics chain, from a single box to a pallet, including the companies involved.
Meeting track-and-trace requirements pose a challenge, both technically and logistically. To help address those challenges, Libbs became involved in a pilot program with track-and-trace turnkey provider Rastreabilidade Brasil, and track-and-trace software supplier Atlantic Zeiser. Libbs has taken up this service for one of its packaging lines. In turn, RB engaged partners for the application at the packaging line and traceability, one of which is scanware electronic GmbH.
"RB was looking for a mark and verify solution for folding boxes on the packaging line. The scanware station, LYNX/CAPA MV, has been chosen for marking and verification due to its flexible construction and usability," says Andreas Jamin, who supervised the project at scanware.
Folding boxes are printed and the print is verified. At the next step, codes of all boxes within a shipping case are inspected. Scanware is in charge of the inspection and evaluation of data, using LYNX/CAPA CI.
A turnkey solution includes the software of Atlantic Zeiser and the hardware of scanware working in unison. On October 8, the pilot program was presented to the public at an event in São Paulo. During the event, the system was introduced under ongoing production conditions and complete traceability of the product through the distribution chain was established in a pharmacy in Brasília.
Companies in this article