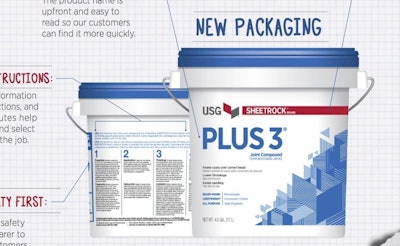 Building products company USG Corp., headquartered in Chicago, has introduced new product packaging designed to make packaging simpler and clearer for users. This follows on the heels of the company's new brand identity launched last year and leads the charge on compliance with the 2015 OSHA mandate to standardize global hazardous material warnings, which goes into effect on June 1, 2015.
Beginning in January 2015, customers will see the new packaging on shelves ahead of the June 1, 2015 deadline established by OSHA's new Global Harmonization Standard, an amendment to OSHA's Hazard Communication Standard. The amendment outlines how hazard classification should be showcased on products, and demands required elements on product labeling, a uniform format for Safety Data Sheets, and employee training.
To comply with the 2015 OSHA mandate, USG has redesigned all product packaging to include the required elements. While the packaging will appear different, nothing in the product formulations or applications has changed due to the OSHA mandate, and USG says its products will continue to deliver the highest level of quality, backed by service and support. The new packaging not only includes the mandated warnings but also simplifies the look, making the products easier to identify, thereby facilitating a simpler decision-making process.
"We are excited about our new look and corporate brand," says Linda McGovern, Vice President of Marketing USG. "The goal is not only to connect our products to our corporate image, but also to showcase how to effectively and proactively meet government mandates on packaging."
New USG packaging highlights include:
Clarity: A uniform layout and presentation of key information makes every package easier for customers to read and identify.
Consistency: The new package is designed to carry the new corporate brand logo and imagery to connect the company's products to the company brand.
Confidence: Easy-to-understand safety information and instructions protect against mishaps.
Compliance: All new packaging meets or exceeds government regulations regarding the 2015 Global Harmonization (GHS) standards.