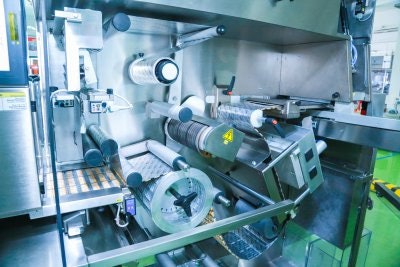 Providing integrated control on the PG Express, which operates at 450 blisters/min, is the Kollmorgen AKD PDMM, a drive-based motion controller with integrated PLC functionality. It's specially designed for small and compact applications such as packaging machinery. The integrated motion controller can synchronize up to eight axes of motion with 250-microsecond cycle time. It supports various motion control functions from simple point-to-point positioning to linear and circular interpolation, and it can take care of PLC logic, temperature control, motion control, HMI control, and drive control for the entire packaging machine.
To permit the greatest flexibility and freedom of programming, Kollmorgen Automation Suite software has been used, so PLC logic, HMI programming, motion control, and drive control are all integrated at one place. It complies with IEC 61131-3 standard for programming languages.
To make the machine user friendly, easy software development was done using Kollmorgen's Pipe Network. Software development was done in just 10 days as opposed to the 45 days often required for competing systems, thus saving valuable time and money for IMA-PG India. With the Pipe Network it is possible to get rid of mechanical components (gears and cams, for example) in the machine by defining equivalent motion blocks in the software. This is user friendly, easy to implement, and easy to troubleshoot. The user simply needs to draw the scheme and ultimately connect to the machine axes according to requirements. All necessary interconnections are done automatically in the program. The biggest benefit for programmer and end user is the ease of programming and troubleshooting with a clear visual understanding of the scheme.
Senior application development engineers from Germany did the entire conceptualization and programming. Conducting trials and finalizing the performance took just 10 days. Currently the PG Express machine is installed at a leading pharmaceutical manufacturer in India and has been running successfully for about the past eight months. Kollmorgen also recently got the serial production orders for PG Express.