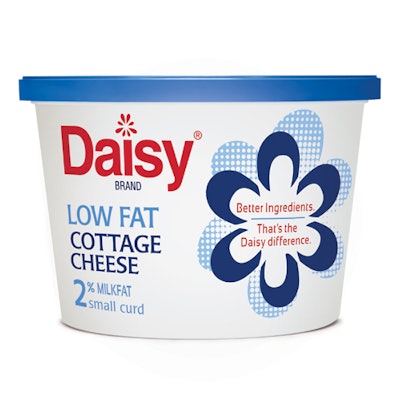 Daisy Brand, the maker of Daisy Cottage Cheese and America's #1 sour cream, has announced its latest innovation for Daisy Cottage Cheese: new, modern packaging that highlights what makes "The Daisy Difference"—better ingredients. Daisy Brand Cottage Cheese contains no more than four high-quality ingredients, compared with other leading brands, which have 10 or more.

The new look of Daisy Cottage Cheese features a contemporary plastic tub package design and a first-to-the-category innovation—colored lids—that increase visibility on shelf and differentiate Daisy from other brands. Light blue lids represent the low-fat version, while dark blue is being used for the regular variety.

"Consumers who have tried and know Daisy Brand are aware that quality ingredients are what set us apart, and the new packaging we are introducing reinforces what we call 'The Daisy Difference,'" notes Marjie Laurent, Senior Brand Manager, Daisy Cottage Cheese. "The call-out of better ingredients, coupled with the addition of different colored lids, allows our product to stand out in the dairy aisle."