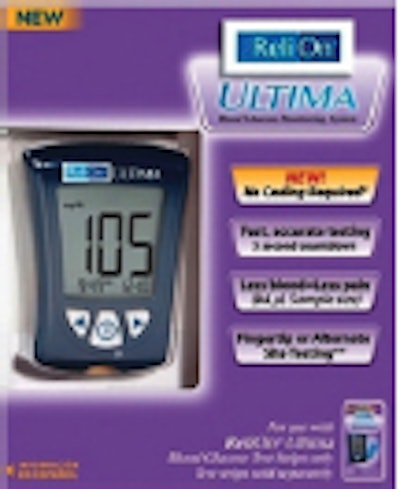 For diabetic patients and their advocates, packaging can be a critical factor in purchasing blood glucose monitoring devices.
Late last year, global marketing firm Affinnova Inc. conducted an audit of 12 top U.S. brands of diabetes monitors. The audit included 600 nationally representative diabetes patients.
With diabetes patients increasing and more meters competing for over-the-counter sales, makers of blood glucose monitoring devices could be well-served to take cues from other product categories.
"Marketers can always look at similar categories for breakthrough packaging that increased sales and try to apply that to their product," says Affinnova's Charu Chaturvedi, SVP, Strategic Account Development, Life Sciences. "In general, the industry needs to realize that customers are making decisions in a broader way than ever before. With more information available, patients have become much more involved in their medical treatment.
"Although a physician may recommend/refer a particular device, the selection available on shelf can easily dissuade a customer from following through. In that case, any manufacturer has an opportunity to enter the purchase decision. Many companies focus on the underlying positioning and messaging of the product, which is useful when you have a forum where the audience will take time to learn and understand. However, when making a purchase decision at the shelf, the ability to standout and succinctly convey the main differentiators of the product are critical. The industry can definitely benefit looking at how OTC and CPG products effectively market themselves at the shelf. It is important for glucose meters to begin to compete at the shelf, not just in the doctor's office."
In the following question-and-answer session, Chaturvedi addresses details of the recent Affinnova audit and package design for blood glucose monitoring devices.
Healthcare Packaging (HCP): Tell us more about the audit (and Design Audit technology) of diabetes meters and their packaging. How were the brands selected and what packaging factors were considered in the audit decision-making process?
Chaturvedi: Affinnova's Design Audit technology gives companies the opportunity to gain insight into how their package and package designs are performing within a competitive context. By evaluating shelf impact, package personality traits and specific design elements that consumers like and dislike, companies can determine what changes could or should be made to in-market packaging.
For this study, we wanted to survey relevant brands that represent leaders in the category as well as other brands that are taking different approaches to marketing and product features (e.g. iBG Star, which syncs with your iPhone). We also visited local pharmacies and drug stores to ensure all packages were currently sold over the counter at pharmacies and were in box format. (Since the diabetes audit was conducted, some brands may have changed packaging or the products available in the market.)
HCP: Are these products all sold OTC to consumers, or to hospital clinics as well?
Chaturvedi: If these are targeted to different audiences, we need to make sure we're comparing them fairly… All of these products are sold OTC to consumers and can be found in local pharmacies, drug stores, and supercenters like Walmart, Target, etc.
HCP: Can you provide a range of sizes/dimensions of the packages included in this audit?
Chaturvedi: Because this survey was taken online, this isn't really applicable, as all packages are shown in a competitive context and not a true "in-store" shelf environment.
HCP: What packaging design traits were considered in the audit?
Chaturvedi: The personality traits that were tested were: Reliable, Friendly, Innovative, Modern, Sophisticated, Safe, Smart, Caring, Trustworthy, Simple, Confident, and Protective.
HCP: What package design characteristics can erode brand perception?
Chaturvedi: This depends on what the brand is looking to embody. Every brand is trying to communicate certain qualities to the customer and convey a certain number of brand personality traits. The key is to ensure your packaging actually delivers on that brand promise. In response to a client brief outlining the brand qualities, designers will try and create pack designs that convey specific brand traits. However, there is always a risk that a new design will fail to communicate the intended brand promise. In some cases, it can even hurt brand equity. Without testing a range of options with target customers, it is difficult to identify which packaging designs deliver the best on those brand qualities.
HCP: Conversely, what package design characteristics can enhance brand perception?
Chaturvedi: Again, this is very dependent on what the manufacturer is trying to convey. It is critical that their packaging and supporting communication effectively deliver the brand promise. We have seen across numerous studies that packaging, done well, can enhance the brand association and lead to greater sales and market share. If done poorly, it can detract from the intended brand association and hurt equity and sales.
HCP: What makes for unique package design?
Chaturvedi: There are a number of elements that make a package design unique, but more importantly a package design should be effective on a number of levels. Not only does it need to attract attention and enter the consideration set, but it also has to effectively communicate the key benefits, brand messages, and entice a purchase. Just because a package is "unique" and attracts attention doesn't mean it will succeed in the market. Oftentimes messaging, especially for medical products, is critical to success.
What the audit showed is that in this category, packaging communication has the ability to dramatically change brand perceptions. As an example, Bayer's packaging dramatically improved personality perceptions versus the brand alone. By contrast, the perceptions of Life First's brand name alone were very positive; but when shown the UltraMini packaging, consumer's positive perceptions diminished.
When packaging truly hits a home run is when it has a unique package form, a dynamic design, and effectively communicates the key brand benefits and messages. A good example of this in the OTC category was in the Cold and Flu medication market. Affinnova conducted an audit that found that Mucinex nearly doubled the indexed average for shelf impact due to its differentiated package that consumers reacted positively to. While the package lagged on a few personality traits, it elevated the brand for a number of key ones.
HCP: How can a company add "personality" to its glucose monitoring packaging?
Chaturvedi: Again, this depends on what the brand is striving to embody. Once a brand figures that out, they ask their in-house designers or design agency to create pack concepts that convey that personality trait. For example, iBG Star and ContourUSB are definitely more modern packs, which they are able to convey by showing their new technology on pack (iBG shows the iPhone port, while Contour shows the USB).
It is really critical for a brand team to identify the key messages and features they want to use for differentiation. Then, it is up to the designers to explore a variety of options to communicate that differentiation. Ultimately, the customer decides if something has met the mark so it is crucial to understand customer perception related to delivery of those personality traits.
HCP: There must be challenges in packaging of such products, including marketing, regulatory, education, etc. Tell us more about the challenges faced in creating packaging for monitors?
Chaturvedi: For the diabetes patient, reimbursement policies are getting stricter – especially with the Medicare population. This allows patients far more choice in selecting the best meter for their needs. So, this gives greater opportunity for meter manufacturers to become the meter of choice. In their quest to do this manufacturers need to focus on what can drive a patient to trial their meter. For manufacturers there will always be regulatory, operational, and financial constraints to what they can produce. However, within the realm of what is approved, there can be variation that is worth exploring, and potentially impactful.
HCP: With more people getting diabetes, and more people treating the disease at home, blood glucose monitor sales likely will increase in the coming years. What trends are we likely to see in package design of these products as a result of their increased use?
Chaturvedi: Packaging will need to become more streamlined—simply communicating product features and benefits, to increase trial and adoption. Patient adherence will be a continuing challenge so manufacturers are looking to develop products that patients want to use and will repeatedly use. This requires packaging that drives strong trial along with features that can engage a user over the long run. Simplicity combined with modern functionality will be very important. As we saw in this audit, having the most sophisticated features doesn't earn you points on simplicity, and overcoming that challenge with consumers is important.