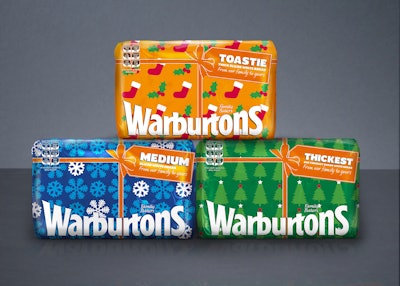 U.K. bakery brand Warburtons has introduced new Christmas-themed wax-paper packaging, created by brand, design, and communications group Smith & Milton to drive interest and excitement over the holidays. According to Smith & Milton, it was briefed by Warburtons to bring a festive look to the packaging, while keeping the original color palette for the background of the packs for recognition.
"The brief was a really exciting one to work on, and it was important to keep the packs recognizable but also create excitement and impact in the fixture," says Steven Anderson, Creative Director at Smith & Milton. "We didn't want to complicate the packaging too much, as otherwise it wouldn't fit with the nature of the product. We opted for a traditionally festive, colorful design, which we hope will be in many consumers' homes this Christmas."
The packs have been designed to give the appearance of a present waiting to be unwrapped, featuring iconic festive images such as Christmas trees, stockings, holly, and snowflakes, and finished off with ribbons, bows, and gift tags with the brand sign off: "From our family to yours." The Christmas-themed wax paper can also be reused by consumers as wrapping paper.

Says Darren Littler, Innovation and Renovation Director at Warburtons, "Our iconic wax loaves are unique to the bread category in that they are wrapped in wax paper with bright, distinctive colors. Consumers tell us the wax paper reminds them of opening a present, so we built upon this insight to redesign the packs for Christmas, which we believe will be really impactful in-store and will create some festive cheer for our consumers."
The Christmas design is now available on-shelf in U.K. grocery stores and will be offered until Dec. 24.