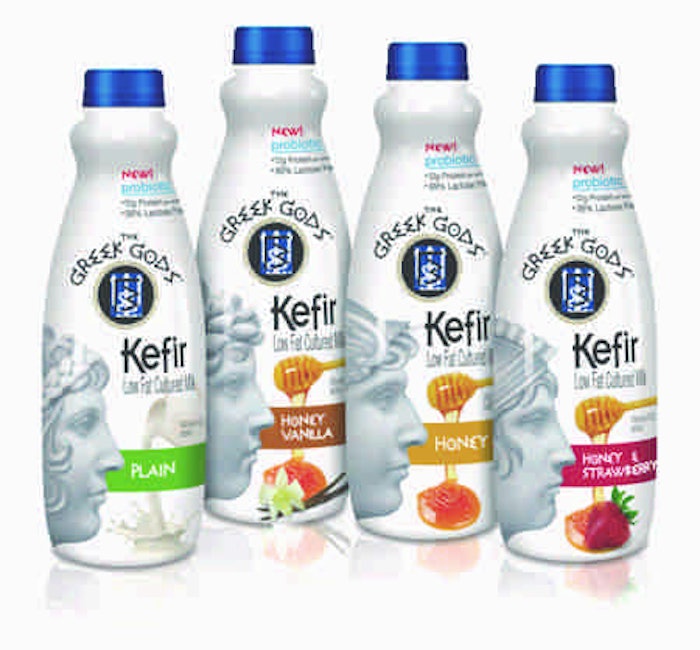 While today's supermarkets and natural food stores are becoming inundated with kefir varieties, The Greek Gods® brand saw an opportunity to introduce a Kefir line for people who seek the indulgent qualities found in The Greek Gods® brand Greek-Style yogurt. The Greek Gods® Kefir Low Fat Cultured Milk is formulated using similar ingredients found in their yogurt and is focused on providing probiotic cultures, Calcium and protein.
Biondo Group a Stamford, CT-based branding strategy design firm, was asked to develop a The Greek Gods® Kefir Low Fat Cultured Milk line of packaging to enhance the brand equity of The Greek Gods® Greek-Style Yogurt, giving the Kefir line a dynamic, modern look.
"We were asked to develop a packaging solution that would be consistent with the flavors and ingredients used in the existing products but also to develop a line with its own personality. After approaching this project from several design directions, we decided that the best way to reinforce the brand's positioning was to highlight the classic beauty of Greek Gods themselves. By utilizing large visages of the Gods – Athena, Poseidon, Eros, and Hermes – we established an immediate connection between the product and imagery."
The overall white bottles communicate a refreshing feeling, while the pictorials of fresh fruits and honey deliver on the promise of taste and nutrition. The back panel features a short history of The Greek Gods® brand along with romance and mandatory copy.