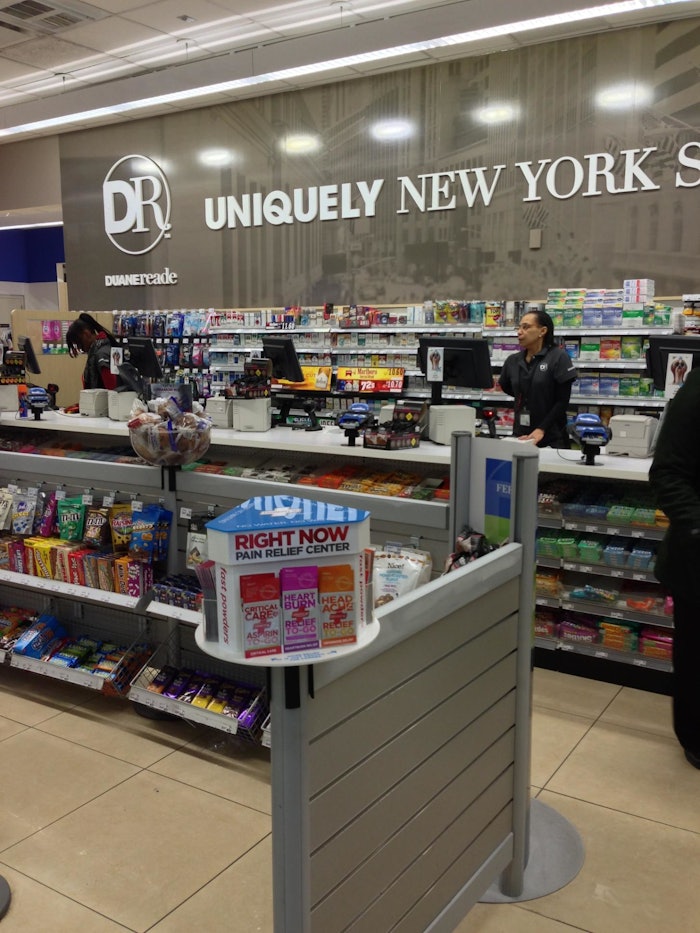 Breakthrough Products, Inc., developer of UrgentRx fast-acting over-the-counter flavored powder medications, has expanded its distribution with major retailers in key markets across the U.S., securing a nationwide retail presence for the company's portfolio of "fast powder" medications.
The credit card-sized packs of single-dose powders are produced on a form/fill/seal machine by a contract manufacturer. In a recent interview with Healthcare Packaging, Jordan Eisenberg, president and founder of Denver-based UrgentRx, said packaging "was updated to promote simplicity with a clean, modern look to attract the on-the-go OTC consumer while simultaneously focusing on the symptom first, which is how consumers shop OTC. In addition, the packaging highlights UrgentRx's point of differentiation—fast, convenient relief in the form of a flavored powder."
UrgentRx is capturing consumer attention with bold packaging graphics and convenient POP displays that encourage impulse purchases—a strategy that fits perfectly with Duane Reade's new direction featuring well-lit, well-designed modern stores. Thus far, early sales data of UrgentRx products have far exceeded what was originally estimated.
UrgentRx says packets are made from a white stickpack pouch material with DuPont Surlyn®, with a 48-ga overlaminate with permanent adhesive. The package provides child-resistance and is printed in four-color process with spot colors on a combination flexographic press. UrgentRx packaging graphics were designed by by Lynn Mueller of Indigobloom Design— a boutique packaging design firm.
With the addition of Duane Reade's 250-plus stores in New York City, as well as in Walmart locations throughout the country, UrgentRx now possesses a retail presence in most major U.S. markets, including New York, Los Angeles, Phoenix, Seattle, Denver, San Diego, and Portland, Oregon—as well as through walgreens.com, drugstore.com, and amazon.com.
"As the reputation of our products has spread, we've been pleased by the response from consumers and retailers—who are both quickly recognizing that being on-the-go doesn't mean you have to suffer when common ailments strike," says Jordan Eisenberg, president and founder of Denver-based UrgentRx. "Today, UrgentRx possesses a retail presence in more than 1,200 stores across the country—and through our current negotiations with retailers we expect to be in more than 25,000 locations by [the third quarter of] 2013."
Duane Reade and Walmart join Fred Meyer, Ralph's, King Soopers, Albertson's, and Kerr Drug Stores in the company's expansion that included the following announcements in 2012:
• UrgentRx's fast powders were named "Best New Product" by attendees at the ECRM Health Care show held in Orlando last August.
• The company launched its sixth product, Allergy Attack Relief to Go™, in autumn 2012 to serve the large number of consumers who face sudden allergy attacks while working, playing, or traveling.
• Allergy Attack Relief to Go joins the UrgentRx family of products, which includes Critical Care Aspirin to Go™, Headache Relief to Go™, Heartburn Relief to Go™, Upset Stomach Relief to Go™ and Ache & Pain Relief to Go™. 
The company's flagship product, Critical Care Aspirin to Go, was designed specifically for use to help increase the chance of heart attack survival when taken at the first signs of heart attack symptoms. Since its introduction, UrgentRx Critical Care Aspirin to Go has been credited with helping to save the lives of 10 people who took the 325mg dose of UrgentRx aspirin at the first signs of heart attack.
"Our goal has always been to make on-the-go ailments as easy to treat as when you are sitting in the comfort of your home within reach of your medicine cabinet," Eisenberg says. "We've been incredibly excited to find that so many people are now considering UrgentRx to be a key part of their life and their health care."
Companies in this article