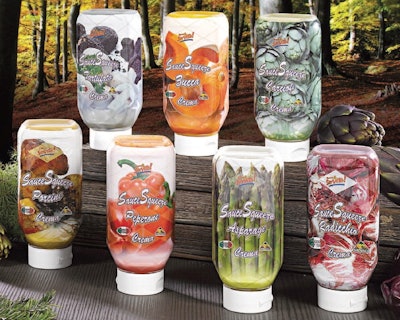 Turning creamed vegetables on their head, Italian manufacturer Serbosco Srl has moved from glass and tin containers for its products, which include creamed radish, artichoke, pepper, porcini, mushroom, and other vegetables, to a plastic squeeze bottle that rests on its cap. The multilayer polypropylene bottle, from RPC Containers Corby, provides a smooth, streamlined appearance for the product line, which Serbosco CEO Gian Domenico Cappellaro explains can be used for "starter and pasta dishes, and as a filling for fresh pasta."
According to RPC, Serbosco chose the 670-mL top-down Orion bottle as "a more modern and convenient format to refresh the brand and further enhance its quality image." The PP bottle employs an ethylene vinyl alcohol layer for oxygen barrier and provides the autoclave-pasteurized, creamed vegetables with a shelf life of up to 18 months.
Positioned at the base of the bottle, the closure is a 38-mm valveless cap from RPC Halstead that, along with the squeeze-bottle format, allows for simple dispensing and accurate portion control. "The squeezy bottle is very convenient for use in pizzerias and 'paninoteche' [sandwich shops]," says Cappellaro. "And the quality of our product is in fact better and more consistent in this new format."
Bottles are decorated with colorful heat-shrink labels converted by Rotomet Srl that provide a strong brand image and shelf appeal.
Cappellaro cites a number of advantages resulting from the switch to plastic: "There is easier disposal of the package as it is completely in plastic, less risk of contamination by foreign bodies, and greater hygiene during use," he says. "In case of a fall, the packaging is not damaged and there is no breakage, the product does not acquire a metallic taste, and the product has a longer life in the refrigerator once opened."
Companies in this article