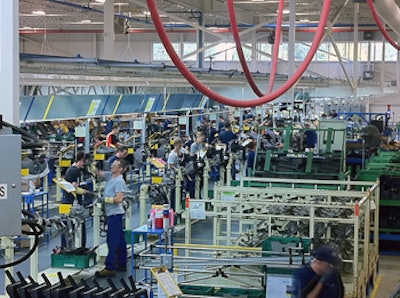 For nearly half a century, Vuteq Corporation has been supplying logistics services and automotive assemblies to the world's major automakers. Founded in 1965 in Japan to specifically service Toyota, the company has grown to include 19 bases of operations in the United States, Canada, Thailand, Indonesia, China, Mongolia, and Argentina. Vuteq's global operations are largely involved in engineering-related operations, such as the assembly of automobile glass, the production of plastic-mold inspection gauges, and supplying a range of interior and exterior automobile parts.
Vuteq Canada, based in Woodstock, Ontario, assembles an instrument panel beam for the General Motors' Equinox SUVs. The production line producing these elements was becoming obsolete in the face of change and demand.
"We had a line that was 14 years old," says Tim Ward, electronic designer at Vuteq Canada. "It began as a very basic line; as the product evolved over model years, our efforts to respond to change and improve the line were difficult to implement because the line's technology made the process cumbersome."
For instance, none of the PLCs on the line talked to each other. "There were checks that involved getting information back, but the lack of communications meant we didn't know if an operation had been performed correctly or even bypassed," says Ward. There was no easy means of accessing, documenting, and recording the data.
Time for a New Line
Sometimes problem situations offer multiple advantages. In this case, Vuteq needed to repurpose the floor space where the instrument panel assembly line was located, and so determined to build a new line, killing two birds (i.e., the space issue and the outmoded line issue) with a single stone.
Vuteq wanted to make sure that the new line was versatile. If new elements need to be added over time, they need to be able to make those changes quickly. Additionally, the communications problem that had compromised tracking of test functionality had to be addressed by integrating it with a data acquisition system.
"Downtime is very critical," says Ward. "We have about two and a half hours from the time we are told what to build to the time it gets installed in the car."
Quality also was a key consideration. In the assembly process, Vuteq uses a number of different torque guns on the line. The torque has to be recorded for warranty purposes, with torque readings married to the specific part number as well as the CSN of the panel beam assembly.
Vuteq had worked with Omron previously; they chose to build the new multi-station instrument panel assembly line by linking 16 Omron CJ2 programmable controllers (two CJ2H and 14 CJ2M) via an EtherNet/IP network. These PLCs offer a built-in multifunction EtherNet/IP port for high-speed data exchange between PLCs, HMIs, and I/O devices.
"The built-in EtherNet/IP communications is a key advantage of the CJ2s," says Ward. "By allowing the transfer of information over the network, we can communicate and collect vital information. In our case, it also marries into one main conveyor system. The line and the conveyor system can talk back and forth, so we can get signals from the conveyor system to the PLCs on the line that are doing quality checks to tell them when to start and stop the checks. If one doesn't get finished, the system allows us to stop the line until all the checks are complete. A plus is that there's no hardware necessary—it's all over EtherNet."
In addition to enforcing the quality checks, the CJ2s communicate over EtherNet/IP to third-party barcode scanners and torque guns and serial based barcode scanners, providing essential traceability. The line also incorporates Omron MX2 drives for motion control, integrated via DeviceNet, and Omron NSJ and NS displays as the principal HMI interface.
"This application is doing exactly what the CJ2 is designed to do," says Rick Tomaszewski, account manager at Omron Industrial Automation. "It's a peer to peer PLC—a very powerful, cost-effective one, with networking capabilities that really shine in the application. The 16 PLCs constantly share data between each other. This is done quite seamlessly, and it was easy to set up. In the past, we would have had to use an external DeviceNet and controller to do what is done with the CJ2s and EtherNet/IP. This topology allowed Vuteq to network all these devices within a few hours. At the same time, Vuteq can use that same network to talk to third party system elements or transfer data collection. It's a textbook case of how Omron recommends using EtherNet/IP."
Quick Implementation and Return on Investment
According to Ward, Vuteq had only a short time to implement the line. A new building was being built to house the line, limiting access until construction was completed.
"Part of the benefit of going to EtherNet/IP was that it condensed the implementation. It eliminated a tremendous amount of hard wiring, and allowed us to set up in a fraction of the time that would have been required otherwise," says Ward.
"This is a very large line," adds Tomaszewski. "It's very impressive how one programmer, Tim Ward implemented this system. Support from our distribution application engineer supported Tim and accelerated the process. This made the implementation extremely cost-effective."
Ward is particularly pleased with how the new line works with its 10in6 data acquisition system. The "10in6" name comes from the idea of 10 percent improvement in six months. Vuteq has done much better than that. By having the information available and being able to get it easily through the communications protocol, Vuteq can tie it into the system and monitor the downtime, as well as use it for line balancing. If the line was stopping in one area because some function wasn't getting done in a timely fashion, it can now redistribute the work on the line to correct the bottleneck.
"Before, it was very difficult," says Ward. "We knew that the line was stopping in a certain area, but we didn't know how many times and for how long. By tying all the information from these Omron PLCs into the 10in6 system, we can now pinpoint how many times the line stops and for how long during the shift. This allows production to effectively rebalance the line faster and easier than before."
One result: exceptional gains in productivity. According to Ward, Vuteq has achieved 90 to 95 percent efficiency on the line. This keeps the tight schedules on time, and the major automakers Vuteq serves happy with their performance.
Companies in this article