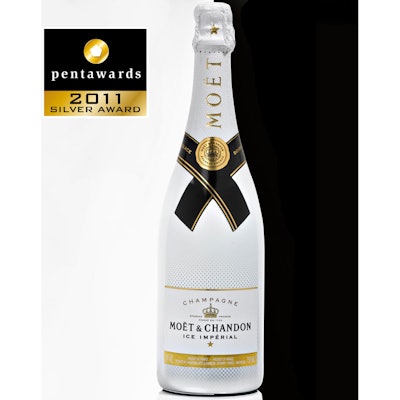 The Pentawards® competition for packaging design announced its 2011 winners at the New York Times Square Marriott Marquis. Moët et Chandon's Ice Imperial Champagne bottle, presented jointly by Sleever International and, won the Silver Pentaward in the Luxury Fine Wines and Champagne category, employing Sleever's SilkSleever® film.
The LVMH Group, through its subsidiary Moët et Chandon, proposed a partnership with Sleever to produce a radically new packaging for "ICE IMPERIAL," a Champagne served over ice. Sleever Technologies' research and development centre in the Tarn in South West France, proposed the use of SilkSleever film for this cuvée, in an alabaster color and the texture of tissue paper. Ice Imperial is a new concept that aims to reinvent the champagne market. It is consumed from a wide-mouthed glass filled with ice cubes.
The idea was to design new and innovative packaging. Moët et Chandon's Ice Imperial completely breaks with the traditional way of drinking Champagne. Sleever designed the new type of bottle that's soft to the touch, covered in tiny metallic bubbles, finished off with a white top. This collector's item also sports a black cravat label and the traditional Moët signature printed in gold on the neck.
During the launch of Ice Imperial, Moët's president said, "This marks the most radical change for the Brand since it was created in 1743. Sleever International has more than fulfilled its obligations, and, with SilkSleever, has created a design that is fundamentally different, both in terms of technology and marketing. It produces a startling alchemy of materials and colors." The film, made from white opaque plastic, forms a barrier against the light to preserve the wine's organoleptic qualities. It also protects the bottle while keeping its traditional form. And like the cravat and foil cap, can be removed so that the bottle can be recycled.
Companies in this article