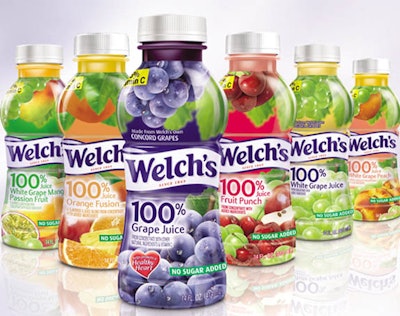 Providing a smooth, panel-less design, the gently contoured bottle bears a full-body shrink label bursting with colorful fruit graphics that appear ripe for the picking.
"We were looking for a bottle that was upscale and would attract more consumers to the premium, 100% juice line," says Welch's senior engineer Stratos Dimas. "It had to be very smooth with no bumps so that it could accommodate a full-body label. It also had to be hot-fillable, attractive, and easy to hold."
The Welch's bottle represents the first custom application of the PowerFlex design, formerly available only in stock 16-oz longneck and 16.9-oz dome-shouldered designs. As Amcor explains, patented PowerFlex technology uses a unique diaphragm within the bottle base that draws upward during liquid cooling, absorbing the vacuum created during the hot-fill process. Several iterations of the PowerFlex bottle were designed for Welch's, which wanted a new single-serve size that was narrower, slimmer, and taller than its other PET and glass containers.
Lending a premium appearance to the shapely bottles, brilliant graphics were designed to adorn full-body PET-based labels, which are gravure-printed in eight colors by American Fuji Seal.
Available in convenience stores and in club-store multipacks, the juice has an average retail price of $1.25 to $1.50 per bottle. —Anne Marie Mohan
Companies in this article