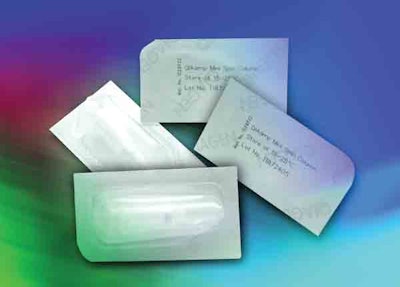 When Qiagen NV installed its Multivac (
www.multivac.com
) RC 530 blister line eight years ago, it experienced difficulties with the thermal-transfer printer used to print all information, including variable information, on the lids of its cleanroom-produced blister packs. The company, based in Venlo, The Netherlands with its operational headquarter in Hilden, Germany, provides sample and assay technologies and products for the life sciences and diagnostic market. It manufactures six different blister formats on the Multivac unit, the most popular of which is the mini spin format consisting of 10 single blisters per pack. The machine prints three blister packs in one step, which is the equivalent of 30 individual blisters.
"With the thermal-transfer printer, you had to change ribbons and thermal-transfer strips, and in doing so you lost about two to five minutes," explains Rene Hess, director of assembly plant. With this interruption of flow, it was difficult for the machine to resume its normal rate of speed. Image quality was also inconsistent. "Sometimes the thermal-transfer ribbon could shrink a bit due to the change process of the ribbon rolls or technical problems, and then you didn't have a clear pattern on your paper," says Hess. Such quality failures resulted in a high percentage of waste. Furthermore, dust particles from the thermal-transfer print head were not conducive to a cleanroom environment.
The switch to laser
To counteract these problems, Qiagen employed DataLase's (
www.datalase.com
) Packmark process to image all information, including lot codes, date of manufacturing, expiry dates, and storage details, onto the steripaper that forms the blister lids. DataLase worked with Siegwerk Group International (
www.siegwerk-group.com
) to develop an ink that features the DataLase chemistry. Vereinigte Papierwarenfabriken (
www.vp-group.de
) in Feuchtwangen, Germany produces the steripaper, which is made of a cleanroom-produced paper with a paper coat weight of 80 g/m2. Vereinigte Papierwarenwerke coats the paper with the laser-responsive ink and prints it with the Qiagen logo.
After the Multivac RC 530 thermoforms the PVC/foil material, products are sorted and placed into blister cavities via a pneumatic handling system. The steripaper, which is now coated with the DataLase chemistry, is then exposed to a CO2 laser printer from Foba (
www.foba.de
) that causes the Packmark chemistry to undergo a color change reaction, forming a positive contrast image. The image becomes an integral part of the pack and is protected from chemical and physical damage or tampering.
After printing, the underside of the steripaper, which contains a glue grid, it is heat sealed to the underfoil. Blisters are then cut and perforated.
Blistering improvements
One of the biggest benefits of the new imaging process, says Hess, is the machine's performance improvement. "We no longer have interruptions for setup times like we did with the thermal-transfer printer," he says. As a result, output has improved from 7.5 cycles per minute to 10 cycles per minute, which translates into 300 single blisters per minute. Waste has also been reduced by approximately 90%, resulting in a savings of 50,000 Euros per year.
"By using the DataLase process to apply variable information directly onto our blister packs, we have been able to consistently produce packaging that features high-grade data and that is also cost effective," says Hess.
Companies in this article