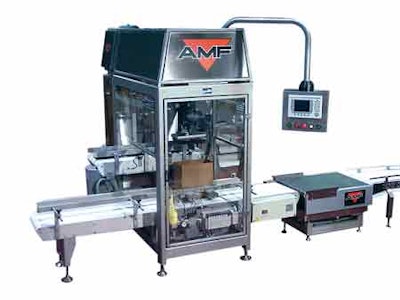 The VersaPak Gantry Robot case and basket loader from AMF Automation Technologies (www.amfautomation.com) combines high speed, pick-and-place precision, and impressive flexibility­—all in a small-footprint system. With each cycle, the robotic end effector uses vacuum grippers to pick packages—bags, film-covered trays, cartons, etc.—and place them in a waiting case or reusable tray. The use of a ControlLogix controller from Rockwell Automation (www.rockwellautomation.com) plays a key role. Geoff Parnell, automation engineering manager at AMF, explains.
"One potential pitfall to any type of robotic system is the communication between the machine's PLC and the robot's motion control," says Parnell. "The PLC is generally perceived as a more stable platform. It doesn't crash. However, it's essential that it be able to interface with the robot's motion controller. For example, as the case is being moved into position, the robot needs to know where it is so that the case can be properly loaded."
Before the ControlLogix platform was available, machine control in comparable case and basket loaders from AMF was handled by a PLC while motion control was governed by a separate motion controller. The inherent problem in this approach is that with separate controllers, speed limitations become an issue because time is needed to process and transmit data.
"In the ControlLogix platform," says Parnell, "the motion control for the robot is built right into the machine PLC. There's no need to communicate with a separate controller, so there is no communication lag at all. That's what makes the system capable of 60 picks per minute."
Parnell describes the VersaPak Gantry Robot as a two-axis coordinated-motion system. Both axes work as one to create a master path for the robot arm to follow. Both motors are electronically cammed, in other words, to create the master path.
The VersaPak loader uses Rockwell Ultra Series servo drives that integrate smoothly with the ControlLogix controller through a SERCOS fiber-optic interface. This simplifies set-up, commissioning, and diagnostics, says Parnell. Also supplied by Rockwell are the PanelView Plus 700 operator interface and the RSLogix 5000 software for both sequential and motion-control programming. End users can change load parameters in minutes, says Parnell.
Companies in this article