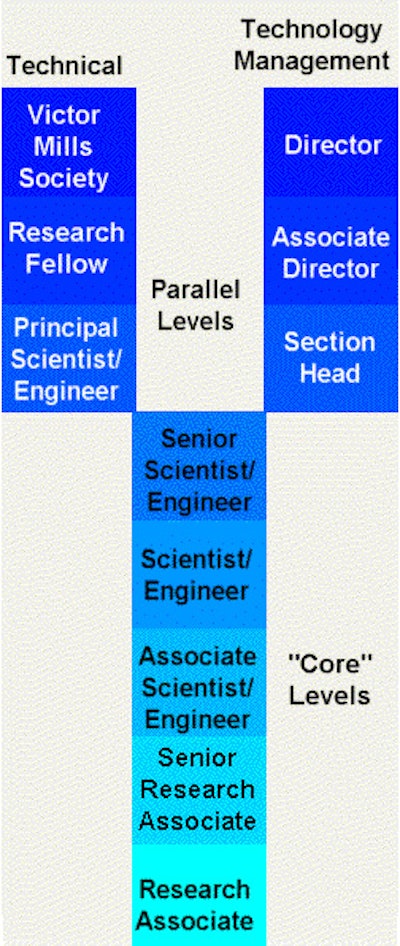 Conventional wisdom has it that to advance one's career, at some point one must veer away from a primarily technical orientation and move into the management ranks. What's bad about such a career path structure is that it can force out or stifle people whose particular genius happens to be in technology, people who have neither interest in nor talent for management. When these employees grow frustrated or leave, the company they leave behind is deprived of the important contributions they might have made.
One firm addressing this problem head on is Cincinnati-based Procter & Gamble. Its R&D division has a Technical Career System that provides suitable growth opportunities for technical employees interested in either technical or management career paths.
The first five levels in the Technical Career System (see diagram) provide a suitable foundation for contribution, recognition and advancement. After level five, "Senior Scientist/Engineer," the career path splits into two branches. The top three levels in each branch are equivalent to each other, according to P&G's Career Search web site, http://www.pg.com/careers/us/randda.htm#overview. The people in these positions are equally valued and compensated for their contributions.
"As people make choices between the actual doing of technology and the management of it, they still get the same recognition and overall compensation within the company," says George Vernon, who heads up packaging R&D for P&G. "So people who have a strong preference to remain focused in their technology areas can do so without a loss of recognition and without running into a salary ceiling."
Though P&G's Technical Career System is the only example of this kind of dual-track career path that we encountered in our interviews, expect to see more of this in the near future. According to Walt Ellis, president of a personnel search firm called Pack Staff, it's an emerging trend.
"As companies become more employee-oriented, they're letting people progress up different avenues," says Ellis. "They're recognizing it's not just the individual management star that you want, it's the good basic technical people, too. Once you lose that technical property, it's very expensive to replace."