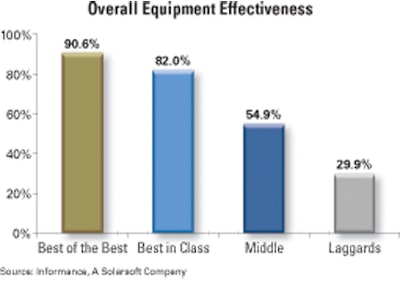 A leading EMI (Enterprise Manufacturing Intelligence) provider,
Informance International
, specializes in helping manufacturers improve operations through performance analytics. In a nutshell, they provide real-time manufacturing metrics and pinpoint the underlying inhibitors of line performance. One of those metrics, OEE, has fast become the accepted yardstick that combines availability, performance, and quality to calculate an index showing how efficient a manufacturing operation is.
Each year Informance conducts a Manufacturing Benchmark Study, the most recent published in late 2009. Presented here are highlights of that study, which captured packaging line data from 725 consumer packaged goods manufacturing operations around the world. The time period spans January to June 2009, and accounts for 9.1 billion units of production across the 725 operations. Informance declines to identify how many unique companies are represented in the study, but the firm does indicate that it's more than 100.
Worth noting is that the information presented here is not the result of a survey, where respondents are asked what they think their packaging line OEE is. This data comes straight from a PLC, and the sample size is large enough to make it a pretty accurate reflection of packaging line OEE at CPG companies in general.
And just how is the data collected? Through a product offering called the Informance Plant Solution. Informance founder and executive vice president John Oskin explains. "It's a combination of software and instrumentation. We measure real-time production minute by minute by time-stamping items as they move through a factory. The Plant Solution forms a database from the time sequenced information, then analyzes and computes everything from uptime to downtime to quality. Attributes such as SKU information, reasons for downtime, etc. come from the PLCs themselves or an operator on the line."
Companies in this article