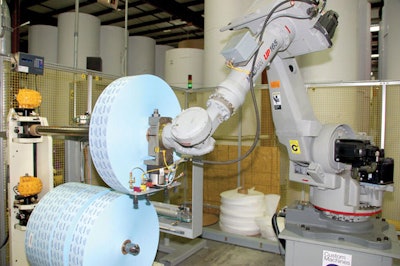 Not only are robotics being used in the packaging process, but automation is also expanding opportunities in package manufacturing, as well. Since it opened in 1997, flexible package converter Coating Excellence International (CEI, www.coating-excellence.com) of Wrightstown, WI, had supplied the pink, poly-coated paper used to make sachets for Sweet'N Low brand sugar substitute. CEI supplied the paper to a printer, who decorated the material for Sweet'N Low.
Several years ago, Sweet'N Low investigated moving their package material sourcing to Korea to save money. "That would have meant that we would have lost the base product," says CEI president Mike Nowak. Instead, CEI entered into an e-bid process to bring printing of the packet rollstock in-house.
It was then that CEI realized that to be competitive, it would have to speed the production process through automation. "One of the ways we found to speed the machines up was to get the rolls off the slitter/rewinder faster," says Nowak. "That's how the robot came into use. When we won the bid, Sweet'N low decided not to move the product offshore."
As a result, CEI installed a Motoman (www.motoman.com) UP165 six-axis, vertical jointed-arm robot, with the help of systems integrator C3 Corp. (920/749-9944). After the package material is printed, it is placed on a slitter/rewinder to be cut into the required package widths. Rolls coming off of the slitter/rewinder can weigh anywhere from 100 to 120 pounds. Says Nowak, "Physically, it wouldn't have been safe from an ergonomics standpoint to have people continually handling that kind of weight, so typically, we have to have some sort of manipulating arm. But it's a difficult process to do very fast."
Compounding the problem for manual handling was the fact that CEI had to switch to bigger, wider presses to run more Sweet'N Low packets across each print web, making the process less-expensive, but producing a greater amount of finished material faster. "Now we had more rolls that we had to get off the slitter/rewinder before we could restart the machine," Nowak explains. Another option was to run the slitter/rewinder slower to allow operators enough time to remove the finished rolls from the machine and palletize them before the next set was ready for handling.
With the Motoman UP165, the slitter/rewinder can now run at twice the speed—approximately 3,000 ft/min. "You get twice as much material off the machine because it's down half the time."
The robot, using end-of-arm tooling developed in-house at CEI, removes the finished rolls from the slitter/rewinder and stacks them on pallets for shipment to Sweet'N Low. After each set of rolls is positioned on the pallet, the robot places a foam divider sheet on top. "So the robot had to have the range of motion to be able to handle a heavy roll, but also take a sheet that is light as a feather and put it between the sets of rolls," says Nowak.
The robot is controlled through an Allen-Bradley PLC from Rockwell Automation (www.ab.com) that was initially programmed by C3. Changes in pallet-pattern programming can be done in-house by CEI staff.
Machine uptime is crucial at CEI, and Nowak says that the company has been very pleased with the reliability of the Motoman UP165. "We can't have the machine down," he says. "That would obviously be a problem for us."
Of the project, Nowak says that it has been a very good first step for CEI, leading them to apply automation to other areas of the plant. "Before you have a robot, you are kind of scared," he says. You look at it and say, 'I don't know how I will ever use that; it's got to be expensive.' In the long run, you find that robots are really not that expensive, and they can help you do things much more efficiently. To compete with cheap labor overseas, we have to be vigilant in doing things cheaper, faster, and more efficiently. Automation has helped us remain competitive."
Companies in this article