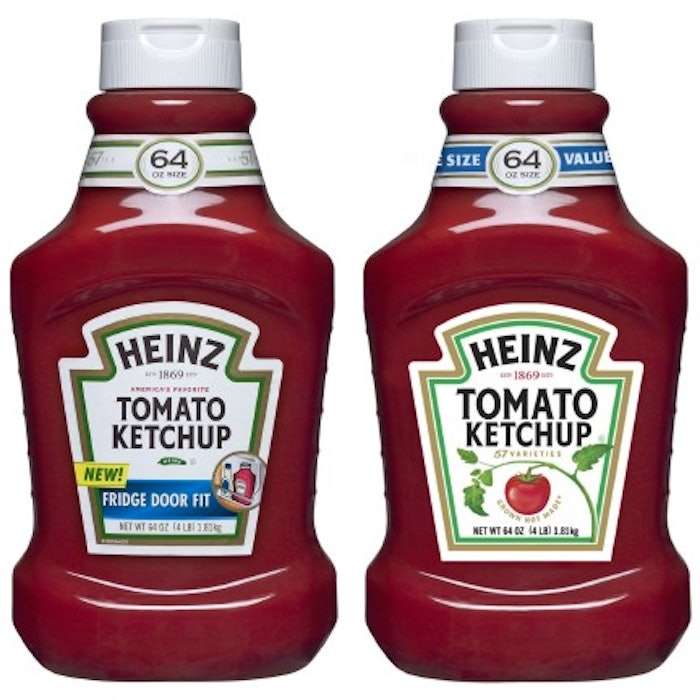 In the end, the tomato won out. That's according to Heinz North America, Pittsburgh, which announced a label redesign for its flagship ketchup brand.
The gherkin pickle, which has been featured on Heinz Ketchup labels since the 1890s, is making way for a vine-ripened tomato and a tagline that clearly communicates that the tomatoes in Heinz Tomato Ketchup are "Grown not made." The tomato imagery on the new label emphasizes Heinz's heritage as the world's largest processed tomato company with a deep dedication to tomato quality from seed to bottle.
Heinz Ketchup bottles featuring the new labels will begin arriving in stores throughout the first part of 2009 and will be available in restaurants later this year. The new label will be supported by the largest marketing campaign since the 1980s, including print and television advertising, which also emphasizes the quality of the tomatoes used.
"The tomato is what makes Heinz Ketchup so extraordinary, and so with all due respect to the pickle, which has served Heinz dutifully since the 19th century, we are shifting the spotlight to the tomato," says Heinz chairman, president, and CEO William R. Johnson. "Heinz tomatoes, which we carefully nurture from seed to vine to bottle, make the perfect ketchup. The redesign of our label underscores this commitment and highlights the true hero of our iconic product, the tomato."
Adds Noel Geoffroy, director of Heinz Ketchup, "According to consumer research, Heinz's 'Grown not made' label is viewed by 68 percent of consumers as confirming the wholesomeness of Heinz Tomato Ketchup." 
It is the first significant new design of the Heinz Ketchup label in nearly 65 years.
Companies in this article