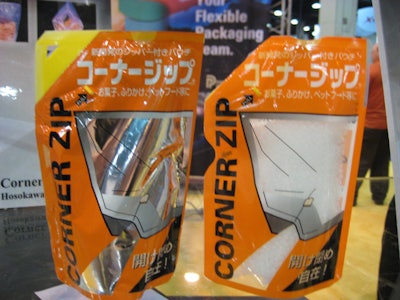 T.H.E.M. (Technical Help in Engineering and Marketing) was established in the '90's as a specialist in technology transfers, specifically from Japan to the U.S. Its most notable effort was bringing the Stick Pack to America, which is now a mainstream item used across many CPG companies and products.
T.H.E.M., in conjunction, with Sanko Equipment, showcased several Japanese packaging technologies at Pack Expo 2008 for potential technology transfer initiatives in North America. A few examples are listed below.
1) The Cartridge Pack, developed by Daiwa Gravure, is a unique system involving a reusable pump package. A pouch is inserted via bottom entry to the pump system. The pouch is then penetrated by the pumping system once closed, giving access to the product. The process creates a seal, eliminating waste of the product once at the end of its pouch. The bag is then removed, recycled and a new pouch is inserted. (See pictures). This product is ideal for lotion, shampoo, cosmetics and any other liquid of similar viscosities.
2) Corner Zip, developed by Hosokawa Yoko, is an alternative opening feature to a film pouch. Current pouches are typically torn horizontally across the entire width of package. The Corner Zip is torn on the angle, minimizing material usage and aiding in product pour ease. (See pictures).
T.H.E.M. is known as a support agent, assisting clients with cultural/communication barriers, machinery, logistics and R&D.
Contact info: Neil Kozarsky, President, 856-988-8436;
www.them.net
Companies in this article