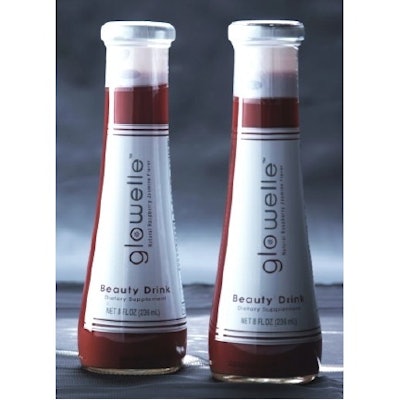 The Nestlé Co. launched an inaugural product into the new "cosmeceutical" market in September via glowelle, which debuts a new type of functional drink: a "beauty juice." Glowelle is a dietary supplement with high antioxidant properties, vitamins, and fruit extract aimed at nourishing and hydrating the skin from the inside out. It's available in two flavors—Natural Pomegranate Lychee and Natural Raspberry Jasmine—and in two formats, bottled and powdered, launched simultaneously.
The brand's high quality positions it for sale at upscale department stores such as Neiman Marcus (and at
neimanmarcus.com
) as well as at Bergdorf Goodman. That meant the primary packaging had to convey a premium image. Glass's characteristics of purity, quality, natural sustainability, and ability to create a premium image for a brand made a glass container the ideal package choice, according to Nestlé.
Nestlé relied on the help of
Vitro Packaging, Inc.
(
www.vitro.com
) to commercialize the glass package. The simple, yet elegant, tapered 8-oz bottle is supplied through VitroSolutions and decorated via Applied Ceramic Labeling. It makes Glowelle a package of beauty in the emerging $1 billion/year cosmeceutical marketplace.
Vitro screen-prints the bottles in two colors using ACL. Vitro and Nestlé were involved in the bottle design.
KU Productions
(
www.kuproductions.com
) assisted in the graphics design. The caps are from
Crown
(
www.crowncork.com
) and are tamper evident-sealed around the neck using a shrink band.
A welcoming, fun design
Designer Ken Ussenko says the intent of the female-focused product was to create an elegantly simple graphics design that was appealing and nonintimidating. "My task was to get people to pick up the bottle and look at the ingredients and see all the good things that are in it," he tells us. "At the price point, I did not want it to come across as a perfume or have a look that was borderline clinical. I wanted it to be welcoming and fun for the everyday woman." One detail that helps do that: A starburst element inside the "O" of the vertical glowelle logo makes it look like a flower.
Glowelle's suggested retail price is $7 per bottle. A seven-day supply of the product in powdered form in stickpacks is sold in a purse for $40, and a 30-day supply of the stick-packs in a box is $112. Nestlé declined to provide further details on the stick packs.
Companies in this article