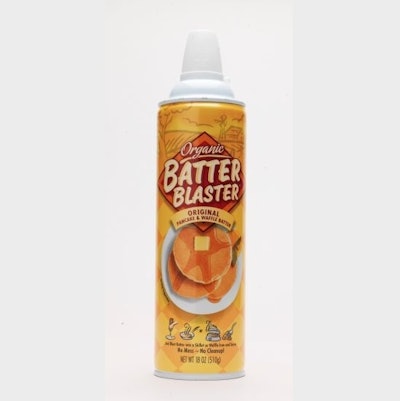 Inspired by his wife's love of waffles, entrepreneur and former restaurant owner Sean O'Connor has spent the last three years developing and launching a clever, convenient solution for quick, wholesome-breakfast preparation. First introduced about a year ago in Los Angeles-area Costco stores, Organic Batter Blaster Original Pancake & Waffle Batter in an 18-oz spray can is currently flipping off store shelves nationwide.

The product, from Batter Blaster LLC, San Francisco, uses a steel can from Crown (www.crowncork.com) and custom-engineered valve technology from Clayton Corp. (www.claytoncorp.com) to deliver a pressurized stream of batter directly onto a pan or waffle iron for "light and fluffy pancakes or crispy waffles," according to package copy.

O'Connor, president and CEO of Batter Blaster LLC, relates that the challenges to launching this first-ever breakfast product were many. "There were manufacturing challenges, and there were challenges in trying to get the product to work right, which ended up involving patents," he says. "The other challenge for us was how to—as a startup, small business with one SKU—do a national launch and find our own category.

In looking for a co-packer for the product, Batter Blaster LLC was turned away by existing whipped-topping spray-bottle packagers, who weren't interested in expanding their operations beyond their well-established liquid-delivery lines, O'Connor says. So the company built its own refrigerated packaging line in Newbury Park, CA. The line accommodates the "largest commercially available can [804X212]," according to O'Connor, and dispenses carbon dioxide into the can, rather than the nitrous oxide used by whipped-topping packers.

Organic attributes entice moms

O'Connor explains that the decision to make the batter organic was made to provide the product with another point of differentiation beyond its convenience and novelty. "It hasn't been cheap for us," he notes. "But what it does is give the mother, who is our targeted demographic, permission to buy something different and take a chance. We can offer a 'better for you' or more wholesome breakfast that much faster."

Calling out the "farm-fresh" aspect of the product, package graphics created by Focus Design (www.focusd.com) use as a background a line drawing of a farmhouse, complete with windmill, fence, and rolling fields. A prepared plate of pancakes in the foreground rests upon a gingham-checked tablecloth graphic. Litho-printed in four-color process plus two spot colors, the graphics use hues of sunny yellow, orange, and red. Cartoon-like icons at the bottom of the bottle convey the product's premise of spray, cook, and eat. "The can graphics evoke a sort of futuristic, retro feel, à la the Jetsons," O'Connor muses.

Since its launch last year, Batter Blaster has found its way into retail grocery chains across the country—up to 10,000 stores by year's end. O'Connor says that retail environments such as Costco that encourage product demos have helped tremendously in getting the product into consumers' hands.

Each can of Batter Blaster provides enough batter for 28 4-in. pancakes and has an average retail price from $3.99 to $5.99; a shrink-wrapped three-pack was found at a Chicagoland Costco for $10.99.


Companies in this article