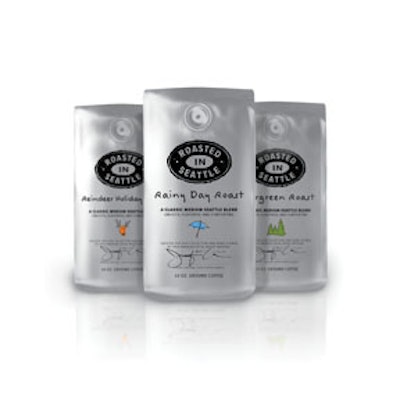 MIW stores' shelves display an eclectic mix of locally produced products designed to attract consumers with discerning tastes. MIW shoppers are willing to spend more on limited-time products unavailable in conventional retail stores.
MIW enlisted Caffé Appassionato (www.caffeappassionato.com), a local roaster and contract packager, to create, package, and ship small batches of different coffees that the chain markets under its exclusive Roasted in Seattle brand.
The labels are pivotal to the success of the package for two reasons. From a production perspective, as flavor batches are created and then retired, only the contents on the label need to be changed, providing production economies of scale. On the marketing side, the label graphics and other visual elements, such as an umbrella signifying the Rainy Day Roast variety, signal each coffee blend and give the brand its made-locally allure.
Companies in this article