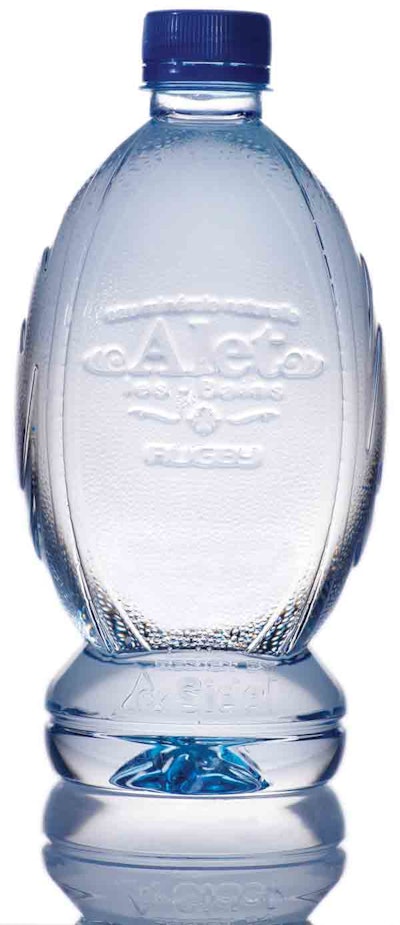 Sidel (www.sidel.com) has unveiled a new 0.75-L PET bottle shaped like a rugby ball.
The ball bottle kicks things up a notch when it comes to realism. The 750-mL PET bottle mimics a rugby ball with the same oval shape and grainy texture created by 10,000 dimples around the circumference. The bottle offers molded stitches and a kicking tee at the base. There's even an inflation valve molded in.
In late 2006, les Eaux minérales d'Alet asked the team from Sidel Packaging Solutions to improve the strength and stability of its standard 1.5-L bottle. At that time, Sidel brought up the possibility of creating a ball-shaped bottle.
"We immediately liked the idea," recalls Eric Foucault, general manager. "Employees at the company were excited about producing the only water sold in a ball. Our teams immediately got to work and made things happen quickly."
les Eaux minérales d'Alet began contacting its own customers, and all were intrigued by the project. Production was launched in July 2007 at a rate of 12,000 bottles per hour, five days a week.
The goal for Sidel's Process Engineering Department in designing and modeling the bottle was to combine beauty and technical performance. In the quest to create a realistic-looking bottle, the designers looked for ways to reproduce the stitches, texture, and kicking tee. And, going one step further to get the perfect look, they placed the label under the bottle to avoid altering the shape of the ball. Sidel then produced prototype and production molds and tested the bottle at the customer's facility.
This bottle is made on a Sidel stretch/blow molding machine and filled by the les Eaux minérales d'Alet company, a bottler located in Alet-les-Bains, in France's Aude region. The bottle and cap are both blue, representing the colors of the Alet spring. Its natural mineral water from the pure springs of the Pyrenees cathares is the choice of elite athletes including the Stade Toulousain, title holder in Europe, the Toulouse Football Club, and the Olympic Lyonnais, which even chose Alet-les-Bains as its official water sold in the team's colors.
The bottles will be sold individually during the World Cup in France, and at major retailers around the country including Carrefour, Intermarche, Leclerc, Auchan, Systeme U, Champion, and Monoprix.
"Selling this bottle enables us to expand our market to a national level," says Foucault.
Companies in this article