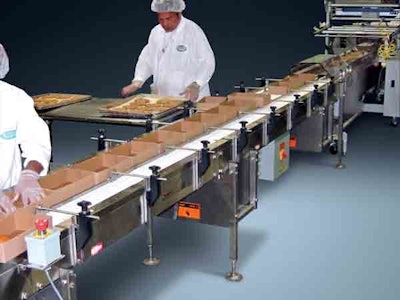 A sizeable investment in mixers, batter depositors, and other automated processing equipment at Schwartz Brothers Bakery led inevitably to a situation where downstream wrapping of product in paperboard trays had to be automated, too.
"We looked at the possibility of using a robot, but our product line—cookies, muffins, pastries, bread—is too diverse and has wide variations in product handling sensitivity," says Rachid Ouardi, logistics and maintenance manager at the Seattle-based bakery.
The solution: automated tray-forming, standardized paperboard trays, a horizontal flow wrapper, and a SmartFeed infeed system from Shuttleworth (www.shuttleworth.com) that helps ensure a smooth and damage-free flow of trays through the flow wrapper. Tray former and flow wrapper are both from Doboy (www.doboy.com).
Serving the entire Pacific Northwest, Schwartz is primarily focused on foodservice institutions, including restaurants, hotels, schools, and military installations. Before the new packaging equipment was purchased, packaging was quite labor-intensive. Paperboard trays had to be erected by hand and placed on one of two conveyors each leading to a semi-automatic shrink-film sealer. Not only was the sealing equipment slow, it also gave off excess heat. Moreover, its inability to accurately position the trays relative to the film being applied caused film waste and too many damaged trays.
With the new Doboy & Shuttleworth equipment installed, erecting trays by hand is a thing of the past. The Model 7510 tray former has an independent shuttle motion that ensures accurate glue placement.
Tray size was standardized, too, at 107⁄16" L x 6" W x 31⁄2" H. No matter if the product is cookies, cakes, or pies, the same size tray is now used, which brings cost savings and a simplified inventory. The tray former places the trays down on a conveyor, where they are then manually filled with baked goods.
New flow wrapper
Replacing the two semi-automatic shrink-film sealers used in the past is a Doboy Linium 301 horizontal flow wrapper. This rotary-head horizontal wrapper offers the option of manual, semi-automatic, or automatic feeding. It can wrap up to 100 trays/min, though Schwartz Brothers typically runs it at about 65/min.
With a high-speed wrapper like the Linium, proper timing on the infeed of the trays is essential if jams are to be avoided. Schwartz Brothers relies on Shuttleworth's SmartFeed conveyor system to deliver the infeed timing it requires.
"We selected Doboy and Shuttleworth primarily because of SmartFeed," says Ouardi. "We wanted the tray indexing capability on our line. The infeed and the wrapper are always talking to each other and reacting to whatever product we are moving through."
A sensor on the Linium flow wrapper tells the SmartFeed conveyor when the flow wrapper's flight is in position to receive a tray. Only then does the Smart Feed release a tray forward.
"The automatic wrapper becomes a slave to the feeder," says Keith Fehrman, an engineer with Doboy. "When there is a delay with a tray, the SmartFeed tells the wrapper that no tray is in position, and to slow down or stop. When the next tray is in position, the SmartFeed tells the wrapper to start, providing accurate indexing of the tray to be wrapped."
An important aspect of the SmartFeed is its use of Slip-Torque® technology for minimizing back pressure. The rollers are loose-fit on the rotating roller shafts. So if a tray stops on the rollers, the rollers stop, too, even though the roller shafts continue to rotate. As long as the rollers are stopped, there's no way for back pressure to build even though the forward progress of the trays has been halted.
"With the new packaging line we saved on labor, and we invested that into quality," says Ouardi. "Now our packagers are more attentive to product quality, like color, size similarity, and weight. We didn't have time to do that before, because they were too busy hand wrapping. Our defect rate has dropped tremendously, as well, from 50 damaged trays for every 10,000 wrapped to 10 trays. Costs are down, too, now that we've combined our purchasing into one size of tray."
At the end of the day, it's all about more cases out the door.
"Before we installed the packaging equipment, we were running about 75 to 80 trays per labor hour," says Ouardi. "Now we are up to 95 trays per labor hour. That's twenty percent efficiency improvement in the packaging line itself, and we are only running the line at a 50 percent capacity. We can still go faster, which means we have a lot of room to grow."
Companies in this article