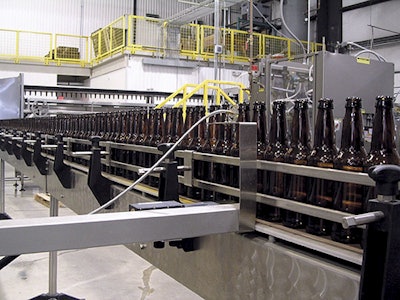 Previously, the firm had only coded the corrugated shippers that serve as secondary packaging.
"We just felt we could do a better job of monitoring our dates more aggressively if we coded the bottles," says Bjorn Nabozney, brewery vice president. "We now show packaged-on date, the year, a tank code, and the time of day the bottle was filled." The same information goes on the corrugated cases.
An Imaje S8 ink-jet coder was selected for coding bottles, which in this case includes both 16-oz aluminum and 12-oz glass. "We use a yellow ink that shows cleanly and legibly against both the brown glass and the aluminum," says production manager Kevin Keeter. Nabozney, who also appreciates the legibility of the bottle codes, says the flexibility of the S8 unit was another factor in deciding which ink-jet system to purchase. "We can change codes on the fly," he says.
Case-coding was also upgraded. An aging roller coder was replaced by a Crayon Plus ink-jet coder, also from Imaje. "It's so much easier to use and maintain," says Keeter. —Pat Reynolds
Companies in this article