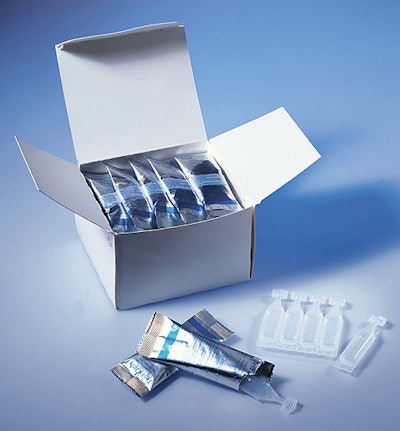 The line helps Dey keep up with Food & Drug Administration regulations for individually wrapped unit doses with a bar code and expiration date.
Dey is a specialty pharmaceutical company that produces drugs to treat respiratory diseases. Its packaging operation produces cards containing five blow-fill-seal vials. It never had to overwrap single vials until it became necessary to satisfy one hospital customer. That's when Dey turned to Sigpack Systems.
"There were several factors that went into the decision," notes Gary Michaud, Dey's senior vice president of operations. "Among those were the need for a single source for the entire line; packaging design that used the least amount of foil for the overwrap; and a favorable delivery schedule."
The new Sigpack system uses a customized vial separation and feed system to create individual vials. From a Hoppmann bowl, vials proceed through one of two wrappers, each of which operate at 300/min. A Cognex vision system verifies preprinted and on-line-printed information on the wrapped unit-dose packages. A robotic arm with a customized gripper top-loads the wrapped vials into shelf cartons, in quantities of 25, 30, or 60. An individual leaflet is placed in each carton and its presence is verified before the carton is closed. A Sigpack top-loading cartoner erects RSC shipping cases and bottom glues them with hot melt before loading cartons into them in two layers.
The packaging line can be changed over to run another format in 30 to 45 minutes. According to Sigpack, Dey now needs only three to four people to run the line per shift compared to six or seven before.
A common operator interface is used throughout the system. The consistent screens and logic makes operator and maintenance training more efficient, and allows individuals to operate the entire system. Software lockout prevents the compromising of validation or traceability.
—Jim Butschli
Companies in this article
Videos from Shibuya Hoppmann Corporation