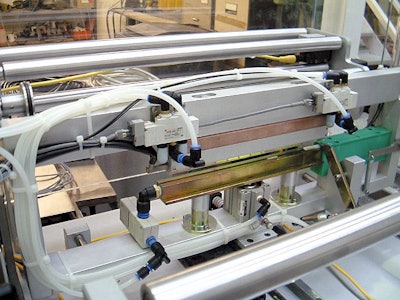 The 460X from England's Line Equipment is a continuous-motion zipper applicator module that bolts onto a horizontal flow wrapper or vertical form/fill/seal machine to apply zipper reclosure profiles to packages produced on such machines. A two-axis motion-control system from Baldor plays a key role.
The continuous-motion 460X system is capable of 60 pouches/min, which makes it considerably faster than the intermittent-motion 360X that is also available from Line Equipment. The key to continuous-motion operation is a reciprocating zipper applicator driven by a Baldor linear motor. This zipper applicator strokes forward at the same speed as the flexible film that's moving through the flow wrapper or vf/f/s machine.
Complementing the linear motor is a Baldor rotary servo motor that feeds zipper material from a roll and into tooling mounted on the reciprocating zipper applicator. When sensors detect a film registration mark, the linear motor is signaled to accelerate forward rapidly until it matches the speed at which the film is being fed. At that moment, the zipper, which has been cut to the appropriate length and vacuum-fed into the zipper applicator tooling, is heat-sealed in place. The instant the seal is complete, the servo-driven reciprocating applicator strokes back to its home position for the next cycle. Cycle time is between 400 and 500 milliseconds.
No PLC is involved in the 460X. Rather, a Baldor NextMove BX motion controller and two Baldor FlexDrive servo drives control both zipper feed and the linear motor that drives the reciprocating zipper applicator. A CANopen fieldbus connects the motion control system to an HMI screen where operators can select zipper length, package size, and other parameters from a menu.
Baldor provided all motion, I/O, and HMI system components required for the new machine and wrote the application software using Baldor's MintMT motion language. Development time was greatly reduced by means of MintMT's built-in multi-tasking operating system. Baldor used this feature to divide the major control functions of the machine—controlling the zipper material infeed, the linear motor, and the HMI—as separate tasks.
The availability of application-level software in the form of "keywords" within the Mint language reduced the amount of time required to develop software. For example, a single keyword allowed Baldor to correlate the linear motor heating element axis to the web material so that the applicator automatically tracks the speed of the flexible film.
One added feature about the 460X that appeals to Line Equipment managing director John Blashkiw is that it can be retrofitted onto existing packaging machinery. Like the intermittent-motion 360X version that preceded it, it works with patented 7-mm-wide zipper material from Supreme Plastics.
"The consumer-friendly virtues of resealable packaging formats are being pushed by retailers and food producers alike, creating a demand for higher speed and retrofittable automation," says Blashkiw. "Baldor's ability to work alongside our engineers and provide a completely operational motion-control package has helped us to create an innovative automation solution for this emerging market need."
Companies in this article