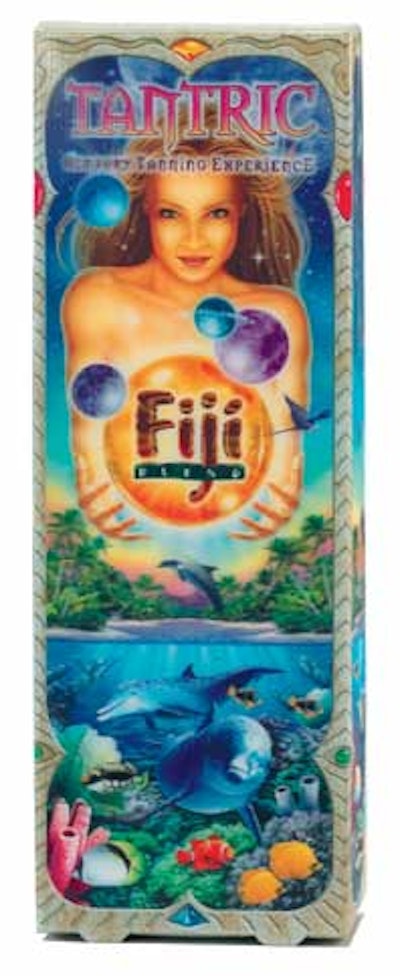 There are tans, and then there are head-turning tans. The same can be said for tanning lotion packages, specifically Fiji Blend's lenticular carton for Tantric.
Launched in early 2004 at tanning salons throughout the United States and Canada, the carton, from Printex Packaging, provides a 3-D effect on four of the tapered carton's surfaces. The carton illustrates a tropical scene including an underwater view and a mystical woman. There's even a volcano on the carton side that erupts as the carton is turned. The 3-D
elements combine to evoke Tantric's "sensory tanning experience," a first in the industry, according to Fiji Blend marketing director Yana Simone.
"There's a lot of movement happening on the box," sums Simone. "It has a lot of shelf impact." That seems to have transferred directly to sales; even at a suggested price of $55, Tantric is said by Simone to have elicited "incredible feedback—it's become one of our top-selling products."
The carton is constructed of 18-ga polyester that's offset-printed in seven colors by Printex. The lenticular lens
produces the imagery at 75 lines/inch. The carton contains a 10.1-oz multilayer blue-
pigmented high-density polyethylene tottle that itself is
pretty impressive , along with a 0.5-mL glass vial
of Tantric euphoria oil for spot application to temples and pulse points.
See the story that goes with this sidebar: Dual bottle dials in a custom tan
Companies in this article