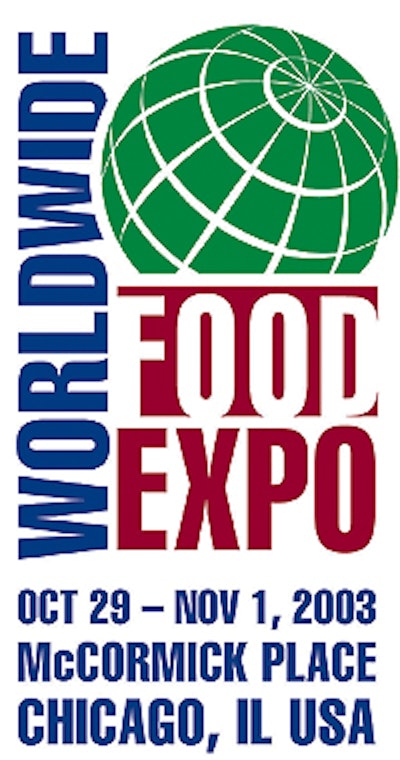 The newly expanded Worldwide Food Expo '03 at Chicago's McCormick Place is pegged as the year's largest food and beverage processing and packaging event in the world. Running October 29 to November 1, the show will feature 1겨 of the world's leading suppliers. More than 30ꯠ attendees from 150 countries will be on hand to learn about new technologies, trends, and ideas.
Co-located with the show will be the AMI International Meat, Poultry & Seafood Convention and Exposition and the Food, Dairy & Beverage Exposition. A single registration badge gives visitors access to all three shows.
Special pavilions include BevExpo Zone; IBWA's Bottled Water Pavilion; Distribution, Refrigeration & Facilities Pavilion; and the Product Development Pavilion.
Worldwide Food Expo is sponsored by the American Meat Institute (AMI), the International Assn. Of Food Industry Suppliers (IAFIS), the Intl. Dairy Foods Assn. (IDFA), the Intl. Bottled Water Assn. (IBWA), and the American Frozen Food Institute (AFFI).
"Worldwide Food Expo '03 will deliver the year's best opportunity to connect food industry buyers and sellers from around the world," says IDFA president and chief executive officer, E. Linwood Tipton. "Food and beverage executives are reacting very positively to the new sponsors and excitement around the '03 event. We expect registration will continue to build as the show approaches."
Register online at www.worldwidefood.com.
Companies in this article