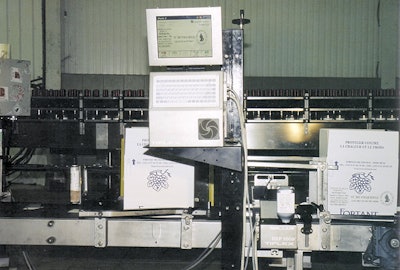 As a leading wine producer in the Languedoc region of southern France, Les Vins Skalli relies on premium packaging to reflect the quality of its wines. That includes the corrugated case that serves as a secondary package for its glass bottles.
Some of the printing required on a case can be preprinted by the corrugated supplier. But preprinting variable information—product type, date code, certain graphics—doesn't make economic sense because it would require unacceptably short print runs. So Skalli has always used printed pressure-sensitive labels for adding variable information on its cases. Online printing of such information was never viewed as an option because management feared print quality could be compromised.
However, as the winery's customer base has grown increasingly global, the use of preprinted labels was getting expensive and complicated from an inventory standpoint. A recent switch out of pressure-sensitive labels to ink-jet printing directly onto corrugated shippers represents a significant improvement.
The ink-jet system selected by Skalli is from the French supplier Tiflex. The Tiflex Model HRP 1000 deploys Trident 768Jet™ print heads, which are capable of printing alphanumeric text, bar codes, and graphics up to 10 cm (4") in height.
"It is imperative that our packaging reflect our commitment to quality," says Rene Garcia, production manager at Skalli. "The ability to print tall, elegant graphics on our secondary packaging helps enhance brand appeal."
One of Skalli's regular customers, a major Asian airline, has been particularly pleased with this new ability to print crisp graphics in addition to accurate bar codes. "The airline used to prefer preprinted labels for their logo," says Garcia. "The labels were more expensive than ink-jet printing, but management at the airline was very sensitive to having top quality printing for their logo. When they saw the sharp logo we could print for them with the Trident print head, they were delighted."
Automatic cleaning
The print head features an Automatic Maintenance Module™ (AMM™) for automatic cleaning at predetermined intervals. This was an important selling point for Skalli.
"We print more than 300ꯠ boxes per month," says Garcia. "We have to keep the print heads from being clogged by corrugated fibers and factory dust. The automatic cleaning system on these print heads ensures consistent high-quality printing and saves our operators time spent manually cleaning the equipment."
Quality printing and simplified maintenance weren't Skalli's only needs. The company also needed a flexible ink-jet printing system capable of responding to the varying information needs of customers around the globe.
"Countries have different laws and regulations about the type of information that must be printed on each wine box," says Garcia. "Each of our customers has very specific information they need printed. The Tiflex HRP 1000 is able to store all of this variable information for us, so that with a simple click of a button we can accommodate different customer's printing needs."
Multilingual coding is inevitable for a global marketer such as Skalli, and here again the HRP 1000 rises to the occasion.
Turning Japanese
"Nobody on our packaging floor speaks Japanese," says Garcia. "So coding boxes for our Japanese customers used to be a real challenge. Now, the user-friendly Tiflex system allows us to simply load a disk containing the customer's product information and logo onto the Windows operating system. With a few simple adjustments, we're ready to print."
As its global presence widens, Skalli also needs enhanced inventory-tracking capability to monitor production. With the new ink-jet printer, the firm is able to include information such as the hour, date and year of production, lot number, wine varietal type, and product identification on the cases.
The user-friendly Windows interface of the Tiflex printer makes it easy for Skalli to manipulate these data to meet its inventory-tracking needs. "Most people in the warehouse were already familiar with Windows, so no special training was needed to learn to use it," says Gracia.
Since it was installed about a year ago, the ink-jet printing system has virtually eliminated the need for labels on cases and has generated significant savings for Skalli. By replacing labels with ink-jet printing, the firm has already saved $20ꯠ.
"In addition to the savings in label costs, the ease of use and the automatic maintenance features save us about 30 min/day," adds Garcia. "We've been very pleased with the new system." —PR
Companies in this article