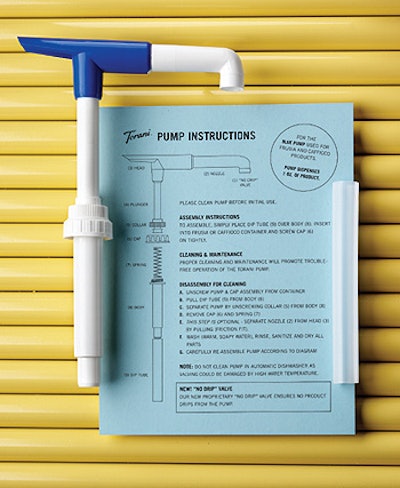 Besides the nifty blow-molded and sleeve-labeled bottles, R. Torre & Co. also selected a different dispensing pump for the products. The company says this was its biggest challenge associated with the new packaging.
"One day we talked about the pump, and six months later we had a prototype," jests foodservice marketing director Kira Klaus of the lengthy development effort.
Klaus worked closely on the development with Don Winner, Torre's vice president of operations. "The pump was a crucial challenge that took up a lot our time," says Klaus.
The successful result was a drip-free, portion-control pump that delivers one ounce of product.
Torre's range of offerings of seven Frusia fruit blends of differing viscosities plus the Caffioco products complicated the project.
"Each of the various fruit products has different particulates and so pushing down on the actuator and getting an even dose for any of the formulations was a real challenge," says Winner.
The fruit of those efforts was the "Maxi" pump from Rieke Packaging Systems. It screws onto the bottle. It is provided assembled and bagged with an instruction sheet custom for Torre's Frusia and Caffioco flavorings.
The pump consists of 13 individual parts, most of which are made of polypropylene. These include two flap valves injection-molded of low-density polyethylene that allow the pumping of viscous products and a special no-drip insert at the nozzle. Key to the pump's success is a 3-piece, PP no-drip insert supplied by Carow Packaging that includes a silicon diaphragm that Carow had developed just months earlier. The insert's selection required weeks of trial and error testing.
The pump was also a sanitary improvement over Torre's previous pump, which relied on a snap-on overcap to keep it from dripping on customers' counters.
"Those got messy," offers Winner.
"With our pump, it's tall enough that a blender can easily go under it," Klaus points out. "It's just the right height—operators don't have to lift anything from the counter."
Torre's sales team works with their customers regarding distribution of the pumps.
Accurate and clean, Torre's pump ensures proper mixing, cleaner countertops, and overall improved customer satisfaction. That makes it an indispensable winner for Winner, Klaus and Torre.
See the story that goes with this sidebar: Cool bottles for a hot market
Companies in this article