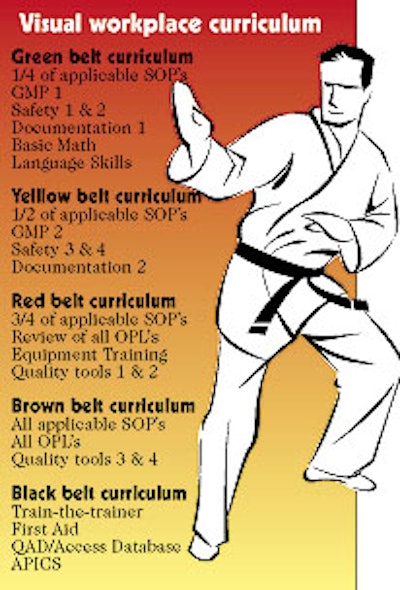 While much of the Visual Workplace Curriculum at Rexall Sundown is self-explanatory, a few terms could use elaboration.
SOPs, of course, are Standard Operating Procedures, and for packaging operators, there are a total of 20 that must be mastered to get through the brown belt level. By way of example, the five SOPs in the green belt curriculum are:
•How to prepare a packaging line for startup.
•How to clean a packaging line.
•How to inspect a packaging line.
•How to complete the necessary documentation for packaging equipment cleaning.
•How to send rework through the packaging line.
GMP stands for Good Manufacturing Practices.
OPL is One-Point Lesson (see main story).
QAD is the supply-chain software used by Rexall Sundown.
Quality Tools refers to the tools a packaging operator can use to ensure quality out on the packaging line. Examples are flow charting, brainstorming, checking of tally sheets, etc.
Access Database refers to the software used to keep training records.
APICS is the American Production and Inventory Control Society, an educational society for resource management. If a packaging machine operator gets all the way through the black belt level of the Visual Workplace Curriculum and aspires to move into a supervisory or management role, a series of courses offered by APICS becomes a first step in that direction.
See the main story that goes with this sidebar: Training combined with incentives