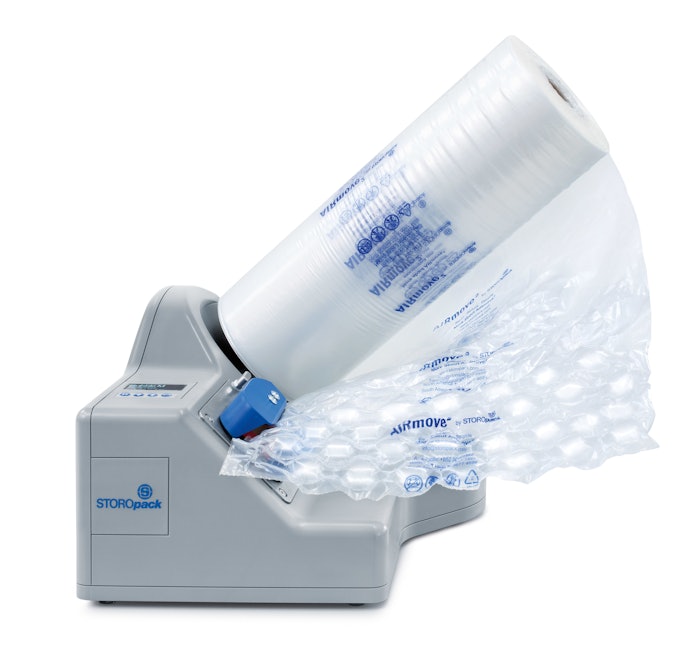 Storopack, a protective packaging supplier, launched its new air cushion system AIRmove². The machine manufacturers air cushions, which provide products with optimal protection in shipping cartons. The air cushions are made directly at the packaging site while the compact design of AIRmove² saves users storage costs compared to traditional protective packaging material. With production output of around 33 linear ft. of film per minute, the packaging material is quickly made available while AIRmove² also compresses with a low-noise film guidance system.
Efficient and cost-effective
The diverse range of air cushions are suited for wrapping, cushioning, securing, and filling empty spaces in shipping cartons.
"AIRmove² provides customers who have medium-level packaging requirements with an optimal and cost-effective protective packaging solution. The packaging material can be produced in a few simple steps and used for a wide range of applications," says Michael Spicker, AIR Product Manager at Storopack.
AIRmove² can be integrated into existing packaging lines and used either as a tabletop or wall-mounted unit. AIRmove² can be deployed immediately with its quick start function. It is operated via a clear text display, which allows the film type and filling volume of the air cushions to be easily configured. Alternatively, the AIRmove² film output can be controlled via a foot pedal or a push button if required. AIRmove² is equipped with an exchangeable cutting system and the film comes from the roll. Storopack supplies the three film types void, bubble, and cushion for the machine, enabling the air cushions to be manufactured in various forms. They are available in different sizes: Void for large air cushions (8 x 5 in.), cushion for padding with smaller air cushions (16 x 6 in.) and bubble for padding with standard-size air cushions (16 x 9.76 in.). All film rolls are 1150 ft.-long and changeable.
Companies in this article