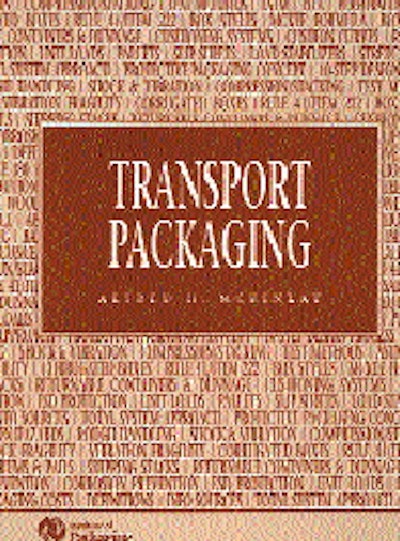 Consultant Alfred H. McKinlay is recognized as an expert in the field of Transport Packaging, which is the title of a new book he's written that was published earlier this year by the Institute of Packaging Professionals (Herndon, VA).
The 160-page reference includes numerous charts, black-and-white photos and other graphics that illustrate 14 chapters of material on the subject of transport packaging. The soft-cover book is divided into two parts. Part I provides background on the requirements and reasons for using transport packaging. Part II explains how to select and design such packaging. Primary packaging, McKinlay points out, is not addressed.
"Your goal in designing a transport package is to provide just the right amount of protective packaging to the product so it will arrive safely at its destination, without using too much or too little material," he says in the book's introduction.
A current member of IoPP's Transport Packaging Committee (and its former chair), McKinlay estimates that expenditures in the U.S. for all packaging materials, including expendable one-way shipping pallets, totalled approximately $100 billion in 1997, of which one-third was represented by transport packaging.
The introduction serves as the book's first chapter, offering a packaging market overview, and defining key transport packaging terminology. Subsequent chapters cover the design process, rules and regulations, hazards in distribution, testing of unit loads, and testing for product fragility.
Part II chapters focus on design details for containers and other packaging. Among topics are corrugated boxes, other shipping containers, returnable containers and dunnage and cushioning systems. Interior packaging for shock and vibration protection, dunnage for bracing/spacing, void fill and abrasion protection, and corrosion- and ESD-protective packaging are all covered here. Unitizing via pallets, slip sheets and load stabilizers, and marking and coding of packages follows.
The publication closes with an appendix listing standards groups, rulemaking bodies and trade associations. Transport Packaging is available through the IoPP Packaging Bookstore/Packaging Matters! customer service center for $95, plus $7 for shipping.
Companies in this article
Videos from All Packaging Machinery Corp.