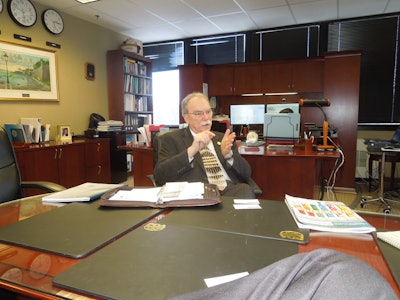 Parenteral Drug Assn. President Richard Johnson estimates that 60% of the association's membership is in the U.S., with 40% in Europe and Asia.
He says that global business practices require more out of packaging and distribution, particularly temperature-sensitive products, including biologics and combination products.
Rapidly changing technologies complicate the healthcare packaging picture, says Johnson, who anticipates that the recently passed HR 3204, its track-and-trace portion in particular, will help improve supply chain integrity.
The PDA President expresses growing member concern over "the last mile" of distribution, making certain that product integrity is guaranteed for patients.
Recalls, drug shortages, and regulatory clarity were all seen as important "big-picture" areas needing improvement.
Important topics include temperature-sensitive products and supply chain, counterfeiting, and improving compatibility between product and primary packaging, as well as primary, secondary, and tertiary packaging. Ophthamology product packaging, excipient contamination, elastomeric performance issues, implantables, prefilled syringes, and combination products were all cited as "hot-button" interest areas for PDA members.
Johnson points out that 80% of medications now taken in the U.S. are generics, and many of these are being manufactured and distributed from less-regulated countries. This puts greater onus on global quality issues and developing predictive metrics for an over-burdened FDA.
Johnson believes, "Healthcare products represent the best value in terms of their overall healthcare value compared to the cost for hospitalization."
PDA is a global provider of science, technology, and regulatory information and education for the pharmaceutical and biopharmaceutical community. The nonprofit organization is committed to developing scientifically sound, practical technical information and resources to advance science and regulation through the expertise of its more than 9,500 members worldwide. PDA provides global forums for the scientific community, regulators, and industry professionals; facilitates development, testing and qualification of new technologies as well as training and education on global level; fosters career-long learning and professional development; enables scientific information sharing with industry peers; continues to be a leading and influential contributor of information for the global regulatory and harmonization processes.
Companies in this article