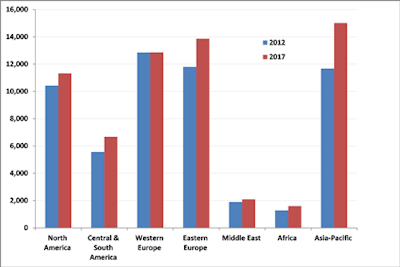 RRP represents a high growth sector of the overall packaging market, having been adopted in the U.K. and Europe around 2005 and now spreading globally. In 2011, global demand amounted to 27 million tons of material in 2011, worth over $54 billion. The most popular type of RRP is corrugated board, which accounts for three-quarters of the total volume of materials used in 2011. Within this, die-cut display containers are the predominant choice, making up more than half the market, with decline-wrapped trays constituting 17% of demand and modified cases the remaining 5%.
"The Future of Retail Ready Packaging to 2017" presents an analysis of the global demand for RRP and assesses the major influences driving demand for this type of packaging.
The market is quantified and segmented according to type of material, end-use application and geographic location, across 18 individual countries and 22 end-use markets for the period from 2011 to 2017. This report provides raw material suppliers, converters, users, processors, and others along the supply chain with an up-to-date view of the current state of the market, with forecasts to 2017, and includes more than 250 tables and figures.
The major driver of growth in demand for RRP will be the burgeoning development of supermarkets, especially in under-developed economic regions. The ongoing formalization of the retail supply chain in countries such as China, India, and Brazil, as well as parts of Africa and South America, will provide the stimulus to maintain growth in demand for RRP, while preventing any marked decline in demand from other regions. Russia is also showing high growth.
The early adoption of RRP by European retailers is evident from the 38% share of demand in Europe in 2011. The Americas accounted for a third of the total with Asia making up an additional 22% and the balance spread over the other regions.
For the period of 2012 to 2017, Asia is expected to show the highest growth rate with demand predicted to improve at an average rate of 6.2% annually. This region will also see the highest incremental tonnage demand over the period, with more than 2.2 million tons of extra material required to meet 2017 demand compared to projected 2012 tonnage. The Americas will contribute incremental demand for almost 1.2 million tons over this period, and a further 1.1 million tons of additional demand will emanate from Europe, in spite of declining markets in most of Western Europe.
(Figure 1.1 shown here shows global demand for RRP by region, from 2012 to 2017, in $millions.)
Three-quarters of RRP demand originates in the food sector, while the beverage industry accounts for 6%, with the balance in non-food products. Over the medium term, demand for RRP from the non-food category is forecast to increase by 3.1% on average per annum from 2012 to 2017, compared to 2.7% and 2.8% for food and beverages respectively. The food sector will contribute an additional 3.3 million tons of incremental demand for RRP materials in 2017, with 700,000 tons coming from the beverage market and 400,000 tons from non-foods.
High-quality graphics go hand-in-hand with RRP and this is creating an opportunity for producers to increase the value-added element of their product portfolios. More and better paperboard materials are being developed and launched into the market by paper mills, providing the material necessary for the demands of the retailers and marketers to create visually attractive packs to capture consumers' attention.
"The Future of Retail Ready Packaging to 2017 is available until Oct. 31 for £3,555, and for £3950 after that. For more information, contact Bill Allen (ballen@smithers.com) at 011.44.1372.80.2086, or Heather Adams (hadams@smithers.com) at 207.781.9632.