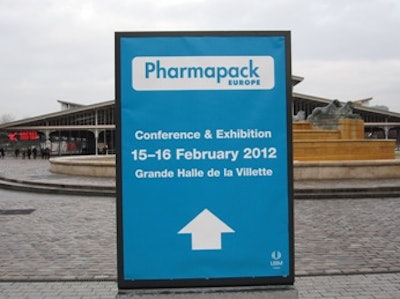 Day one of Pharmapack started off with a bang as the hall was packed. Exhibitors noted an increase in attendees this year, with one attendee reporting, "we had more qualified visitors this morning than the entire two days last year!"
The keynote speaker this morning was Patrick Noailles, president of Seillans Investissement, France, His presentation, "From Mesopotamia to Modern Times, Think different about Innovation," covered innovation throughout time. According to Noailles, innovation is an "increase in the economic efficiency of society. The whole of society, not just the company who is innovating."
In order for a company to foster innovation, it must create an environment for innovators to continue to grow and develop. In the United States, he said there are two areas where innovation thrives. They are the Silicon Valley and Boston.
According to Noailles, there are five areas that pharmaceutical and medical device companies can look to innovate. They are accidents (at home and traffic accidents), population aging, low-cost pharmaceuticals for developing countries, and treatment of new diseases, such as swine flu or ebola, which require new drug development. The fifth is personalized medicine, as it pertains to adapting and creating new treatment plans according to someone's DNA and lifestyle. This, Noailles said, is the future of innovation.
Another session was "How to Make Pharma Packaging More Informative to the Patient and Still Compliant with Sustainability Requirements," given by Alexandre Letouzey from CCL Packaging Label, France. In his presentation, Letouzey cited increased regulations, product complexity, and levels of precaution as reasons there continues to be additional information needed on packaging.
Traditional packaging has always been cartons, labels, and leaflets, but a more sustainable option is the expanded content label, or ECL. This eliminates the carton and leaflet, which increases patient information and sustainability. One ECL can add up to 48 pages of languages, product details, or legislative information. Other benefits to the ECL include simplification in the development phase, content staying attached after first use, flexibility to include features like Braille, or anti-counterfeiting measures.
One trend on the floor today was preservative-free properties for drug pumps. In Europe, patients are concerned that their drugs, particularly those for nasal and throat care are preservative-free. This is becoming more of an issue, and several suppliers are now offering packaging to reach that market. It will be interesting to see if the preservative-free trend carries over to the U.S.
And, in a conversation with one pharmaceutical supplier, it was noted that one of the reasons there are so many pharmaceutical mergers is cost reduction. It is easier to buy a company for the drugs they have in development than it is to develop their own drugs.