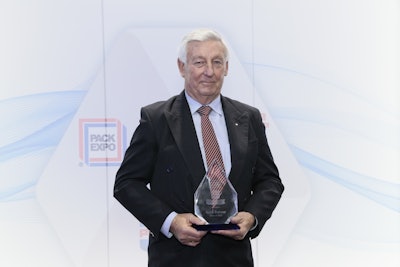 Packaging World: Based on your nearly 50 years of global packaging experience, what can you tell us about the packaging market in South Africa, and how does it compare/contrast with that of the U.S.?
Keith Pearson: The South African packaging industry has always had good growth within the agricultural market for local and exported fruits. Europe and the Far East were good markets that [enabled] the farming community to expand.
The largest difference between the South African and U.S. markets is in the area of packaging volumes. The South African population numbers about 50 million, with many of the people residing in rural areas without access to large retail stores. This is changing as urbanization takes place. Migration from African countries to South Africa is also a factor.
Currently, the South African packaging industry is valued at US$5 billion. The market includes multiple substrates such as paper, plastic, metal, and glass. The annual growth of the country's packaging industry correlates with local GDP growth, which in recent years has been in the low single-digit range.
What are some of the key logistics challenges for companies in South Africa?
Distribution requires long distances, including full cold chain logistics. South African-produced products are shipped throughout Africa using predominantly road freight. These demanding conditions require exceptionally strong, robust fit-for-purpose packaging at cost-effective pricing.
Does the country's climate challenge manufacturing and shipping due to special temperature/humidity conditions?
Corrugated cartons used for the export of citrus fruit had to be developed for high-humidity requirements in some of the export markets. This included development of waterproof adhesive and water-resistant coatings. Cartons used in the banana industry once were wax-coated. Now, other coatings are applied to deal with refrigeration. Packaging that caters to the fish industry was also developed, as were cartons to withstand blast-freezer conditions.
Describe the consumer and industry markets in South Africa.
The South African consumer landscape is diverse geographically, culturally, and economically. Added to this are varying retail formats that range from top-end to very unsophisticated rural mom-and-pop stores. Each format and need demands its own packaging solutions and pack sizes. That translates into a wide range of packaging demands on packaging suppliers.
Key industry sectors include beverages, food, toiletries and cosmetics, household cleaners, pharmaceuticals, automobiles, apparel, and quick-service restaurants.
Is sustainable packaging an important consideration for the country?
Recycling of packaging is a growing challenge for brands and industry alike. From a diversity perspective, poverty comes into play on one hand where unemployed people cannot afford to transport materials to recycling centers from rural areas. Therefore, much recycled material is not processed properly.
Conversely, South African packaging has sophisticated levels of recycle collection even when compared to developed economies.
What role does packaging having on society, particularly in South Africa?
The country's GDP is accurately reflected in packaging markets. Retailing has shown significant growth all over the world. The fact that Walmart is the number one Fortune 500 company indicates that consumers drive economic growth.
The growth of Amazon and Internet purchasing will not reduce packaging requirements, as packaging is still important in protecting products through the delivery system. New types of packaging have been developed to cater to returns of unwanted product.
Packaging's importance will continue to be significant, as it provides physical protection as well as safety, product traceability, and tamper-evidence.
The Save Food initiative highlights that on average 30 percent of food goes to waste. Packaging has accepted the challenge of dealing with this problem and encouraging innovation. Packaging is a significant partner in helping to reduce hunger around the world. Packaging is also the instrument used to transport food to areas that are ravaged by hunger.
"Smart" or "intelligent" packaging assists in communicating internal pack conditions and provides an early warning related to contamination.
Read more about Keith Pearson here.
Companies in this article