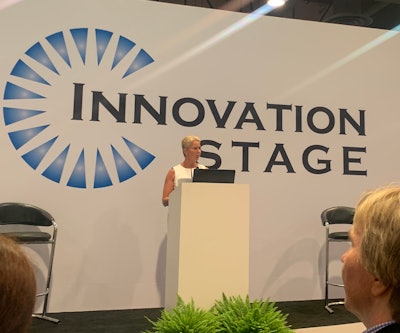 There's no "silver bullet" to making more sustainable changes to your operations, in part because there's no one way to measure sustainability. And in healthcare packaging, environmental concerns have often taken a backseat in the name of upholding patient safety.
But as Melissa Green, head of global marketing at TekniPlex Healthcare, said in her Innovation Stage talk at PACK EXPO Las Vegas, it's time for sustainable changes that uphold patient safety, adding, "Sustainability is not about doing less bad, it is about doing more good."
Green highlighted many examples of "Reduce" from the 3 Rs—reduce, reuse, recycle, plus a fourth, resolve—that may be low-hanging fruit at your organization, many of which aren't confined to the healthcare industry.
Go digital: Use digital records versus paper records. Green asked, "How many quality manuals, process instructions, etc. are still in paper binders in our facilities?"
Lighting: Offices and production sites can switch to more efficient lighting like LEDs, and motion sensors can be added to ensure lights aren't left on when no one's in an office. Additionally, unplug devices when not in use (within reason).
Smart travel: As Green noted, if COVID taught us anything, it's that we can still do business without face-to-face interaction.
Supply chain considerations: Take advantage of local suppliers to minimize transportation costs wherever possible.
Energy: Source electricity from renewable sources like solar and wind.
Green added that it's important to challenge your production teams to do better to reduce scrap in all areas of your process. "Many of these may seem obvious, but the question is have you already implemented them? Because the obvious is often overlooked," she said.
Biobased materials
PVC is a workhorse material in healthcare packaging and healthcare products in general. "Our PVC resin suppliers have been working diligently to improve the CO2 footprint of the raw materials we use to make our films, tubing, and other medical devices. We now have options to use these raw materials safely and reduce the carbon footprint up to 90% relative to conventional PVC resins," she added.
Three examples in reduction
The healthcare packaging community lags behind consumer packaging in terms of sustainability, due in large part to flexibility in using alternative materials such as paper or fiber. "Healthcare has to be a bit more cognizant of using materials that need transportation, shelf life, and environmental and sterile barrier considerations," Green said.
She noted that in healthcare, lightweighting or downgauging the original material, or using a similar material that meets the device or drug needs is a first go-to option. For example, a tray made from PETG today could potentially be made from a thinner TekniMD PX, a proprietary copolyester material made by Tekniplex. Multiple medical device manufacturers (MDMs) have proven through testing that downgauging is possible.
1. Reducing thickness: One customer reduced the purchase sheet thickness by five mils, and ultimately reduced the weight of their tray by almost 9%, while still meeting the protection requirements of the product. This weight reduction also translated into a reduction in transportation costs.
2. Functional package: Green said one option is to think through design options that make the primary package the functional package. Green said, "These package designs allow you to eliminate overwraps or secondary packaging. They typically offer either an environmental barrier or structural protection to the device or drug by incorporating those requirements into the primary package design."
Recently, an MDM was able to undergo such a design moving from their original package: a rigid tray with Tyvek lid that was placed inside of a foil pouch because the device was sensitive to moisture. This is a common way that medical device manufacturers achieve moisture barrier, but there are more sustainable alternatives.
The MDM was experiencing issues with the package design: pinholes in the foil pouches and cracking in the foil while the packages were being boxed. "In addition, the packout itself caused inefficient use of the box and resulted in not maximizing the amount of devices in a box, ultimately decreasing the device count per pallet," said Green. "Hospital staff also complained about the storage—stacking the pouches was a challenge and they were sliding off the shelves. Lastly, hospitals complained about the excess material waste from both the overwrap and additional cardboard to fulfill an order."
While the package met the moisture barrier objective, the design was not as efficient as it could have been for real-world handling in a hospital setting. "The three different packaging components increased the handling and cost of the package, and more labor was needed to load the tray into the pouch prior to sterilization. And because of the pinholing and cracking, a thicker foil pouch was being considered, which would only add more cost to the overall packaging system," she said.
The solution was to create a primary package that offered both structural integrity and environmental protection in one solution: they implemented a TekniMD PXA material, a laminate of a copolyester film, and Aclar, a material that provides moisture barrier, and combined that with foil paper lidding.
"There were multiple benefits to putting all requirements into a single package, with the first being a cost reduction for materials and labor. Without the pinholing and foil cracking, the moisture barrier of the tray and lid combination was far more consistent. The new package design improved stacking, storage, and organization in the operating suite," said Green. "The product was also visible through the tray, which could help ensure the right device is present in the operating suite when it's needed. But the real reason I'm showing this is the significant waste reduction that resulted from the design and utilization of alternate materials. This new package completely eliminated the foil overwrap, and reduced the number of cardboard boxes needed to fulfill an order quantity. The reduction in shipped boxes also reduced transportation costs, which could have a positive impact on the carbon footprint depending on the shipment method."
3. Tubing: On the more complex side is an example of creating a more sustainable insulin delivery system. "The advancement in insulin delivery over the years is indeed a great illustration in itself of challenging the status quo for measuring out individual dosages and injecting yourself, to pens, and now it's the pumps that deliver insulin on demand. However, when we're referring to challenging the status quo in this example, we're referring to insulin delivery via pump," she explained.
The current tubing used in a pump configuration is disposed of after just three days due to chemical composition. Market leaders asked Tekniplex if they could create a tubing set that would increase that useful life to 14 days, which would allow them to build brand loyalty with their patients, increase market share, increase patient safety, and provide a better experience for the patient while reducing insulin and tubing waste. Tekniplex answered with multi-layer tubing suitable for the drug. Increasing the useful life of a tubing set from three days to seven on the low end means a patient with diabetes uses just 52 sets annually versus 120 with the previous technology.
As Green explained, this case represents a more advanced solution for bridging the gap of healthcare and sustainability. But the out-of-box thinking and working collaboratively between company and supplier can yield success for both the patient and the environment.
Opportunities with advanced recycling
In the medical, pharma, and diagnostic markets, utilizing recycled materials is not without perceived risk, Green said. Today, the majority of recycling still occurs as a closed loop process where edge trim from a film manufacturing process is sent directly back through an extruder or in-process manufacturing scrap is funneled back through extrusion.
Raw materials with post-consumer recycled content aren't deemed safe for healthcare packaging applications at this point. But materials manufactured with chemically recycled plastics hold promise for reducing landfill waste and producing high-quality materials that are indistinguishable from new plastics.
Reuse and resolve
While reuse in the medical packaging sphere is not viable at present, certain devices are reprocessed or resterilized. Green noted that some of the best opportunities for reuse are actually outside of patient contacting materials. Green highlighted, "Some of the simplest reuse concepts are in the kitchens, cafeterias, and bathrooms of our facilities, where we have the opportunity to eliminate single use plates, utensils, and paper towels or napkins. If we are processing raw materials that typically arrive in cardboard or plastic bags, consider the use and reuse of plastic totes. Incorporate plastic pallets into your fleet for shipping and interior movement of goods. Consider reusing corrugated when and where you can. If you're a business that uses significant water, considering wastewater reclamation, water use or recycling programs."
Companies in this article