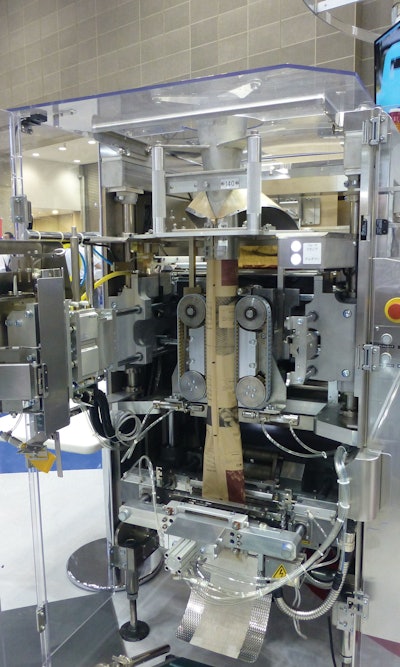 Japan's food packaging sector has plenty on its plate. First, it faces a national workforce shortage. Second, it's confronted with demands from uncompromising retailers for a constant stream of new and innovative products. And on top of all that, it is expected to play a role in improving air quality in time for the 2020 Tokyo Games.
Japanese food supply chains are under strain from a national workforce shortage and a shrinking consumer base thanks to a declining population. Under such conditions, the packaging industry growth over the past 10 years has flat-lined monetarily due to cost pressure from strong domestic competition and prolonged economic deflation. Such concerns—added to social and political uncertainty, threat of natural disasters, and climate-change—have caused leading converters of packaging materials to fire up much-delayed international marketing activities as they struggle to establish overseas business.
Japan Pack, the nation's biggest packaging show of 2017, displayed the industry's technical strength and agility to keep up with retailer demand for new products that continuously refresh the shelves. It also has to adapt production, processes, and pack design to an aging population on course to shrink by 7.7 percent between 2015 and 2030, according to Euromonitor International. Stressed supply chains face other sources of risk and uncertainty, including extreme natural events, climate-change, and political pressures, Japan Food Packaging Association President Takasuke Ishitani told a 250-strong audience at his Japan Pack keynote speech.
Ishitani gave Packaging World an exclusive interview, bringing a basketful of oxygen- and humidity-sensitive foods such as miso, soy sauce, cooked rice, and mochi. Many of them use Japanese technology to prolong freshness and keep their original taste and color. These technologies include Ageless oxygen absorbing sachets from Mitsubishi Gas Chemical, oxygen-absorbing Oxydec film from Toyo Seikan, and barrier materials such as Kuraray's Eval (EVOH) and Toppan's transparent barrier film (GL). But the value of Japan's 50 years in active packaging technologies is unappreciated beyond its borders, partly because Japanese food companies participating in global markets are relatively few. Ishitani is critical of the Japanese food industry's overemphasis on home markets and now sees global marketing activities "just starting."
As for the workforce shortage issue, it's brought about a re-think of the operator's role and the nature of human interaction with machinery. Automation, cobots/robotics, communicative smart technology, and user-friendly design are seen as creating safe and pleasant work places that attract new recruits.
Trends in printing
Among the flexible packaging converters at Japan Pack was Fuji Tokushu, which reports that 50 percent of orders call for runs less than 20 minutes long, and printing gravure requires a 60-minute setup. By contrast, digital printing is time-efficient for multiple variants and relatively low-cost for testing the market with new products.
Concern for worker health kick-started Japan's water-based printing (WBP) some 20 years ago, and since then the environmental advantages have been recognized. Japan's issue with air quality is less critical than that of China, but as host of the 2020 Olympic and Paralympic Games, Japan has committed to providing clean air for competing athletes to breathe and is encouraging "green" purchasing. "Eco-friendly" retail packs are identifiable by a special logo.
A front-runner in WBP, Fuji Tokushu showed an array of prime specimens produced on the "breakthrough" Fuji.M.O inkjet-gravure hybrid printing machine, winner of a Silver in the DuPont Awards for Packaging Innovation 2017. It was developed with Miyakoshi digital technology, Orient gravure expertise, and inks supplier Fujifilm, UK. Fuji Tokushu President Shin-Ichro Sugiyama takes prides in the fact that a major piece of capital investment is run by two young women with no prior printing experience, mentored by a veteran co-worker. The Fuji Tokushu President also notes approvingly that Chinese converters are coming to Japan to study water-based printing to reduce their VOC emissions. The combination of full-colour inkjet printing and water-based white gravure printing on transparent film is said to cut levels of organic solvent by 95 per cent. "We want to increase water-based printing in the world [and] are considering seriously joint ventures," says Sugiyama, a significant move in a domestic industry that's been slow to develop international marketing strategies.
Emphasis on automation
Ishida sees automation as an all-round solution for a challenged supply-chain. It minimizes the human factor in production, makes the factory floor a more attractive workplace, and gives producers flexibility to meet demands for quality, packaging formation, and flavor variety. Convenience-store buyers depend on manufacturers to develop something new for customers with high expectations. "Year by year it is getting more difficult," says Hitoshi Fujieda, manager of the Asia department at Ishida. He said demands in the Japanese market differ due to social preferences and expectations. For the Japanese "taste is critical and needs to be excited, with change not only in the mouth but also in the eye," and the flexibility that this requires comes from automation. Cultural aesthetics makes pursuit of perfection more important than higher rates of output. So intermittent motion is king in Japan as opposed to continuous motion.
A humid climate calls for high-barrier films and other protective systems applied to sensitive foods, continues Fujieda. "The USA and Europe," Fujieda notes, "can go for thinner films, which make higher speeds achievable." Attention has turned to technologies that prolong shelf-life and reduce the very high levels of food-waste occurring in retail and homes. It has prompted regulators to extend the food-marketing window to save good-to-eat products from premature disposal.
Ishida introduced the "easy-open" Inspira bagmaker with "smart" technology that enables it to "talk to" an Ishida weigher and potentially with a third-party machine. Key to the new design is its user-friendly film roll changeover at the rear, with the roll easier to put on thanks to an LED light strip plus a marker with which to line it up. It is also simpler to remove by way of doors at the front that swing open. Overall, this achieves less machine downtime and avoids operator injury, claims Ishida. In a snack application, to minimize risk of film jamming at the sealing stage, the sealing unit moves down and back up, meanwhile making the sealing bar wider, a process known as "browsing.
Early results of a project involving Inspira and Nippon Paper, which aims to cut the use of plastics in the snacks category, were shown for the first time. A paper-based material known as Shield Plus is coated with a heat-sealable polyethylene film that can be switched for biodegradable PLA (polylactide) to increase the environmental benefit.
Ishida is co-developing smartglasses for easier machine operation, troubleshooting, and achieving optimal efficiency and productivity. The Windows-based system offers multilingual display, continuous monitoring of production, and production history. Collected information is sent to a central support that gives instructions for improving machine performance. Ishida sales team members Yoichiro Abe and Ami Tsukamoto encouraged potential customers to try out the glasses and feed back their comments.
Sydney, Australia-based TNA Solutions specializes in food processing and packaging, and after four years of participation in the Japanese market has set up an office in Tokyo with dedicated staff to support that market locally. Japanese national Shuntaro Yamasaki has taken the reins as TNA General Manager for Japan, adapting business protocols to fit the culture and its expectations, notably by tightening lead times. His counterpart for the Asia region Paul Webster said, "between four and six weeks won't do." Customers in Japan need exact dates for delivery, Webster added, and "what you commit to, you have to deliver."
Now in its 35th year, TNA has moved into non-snack foods, including french fries, and into conveying and secondary packaging equipment. But the focus in Japan initially will be on snacks while "looking around for other projects where we can add value," Webster said. The Japan Pack team was buoyed-up by the first "good orders" and a diary of back-to-back meetings at the show, where a TNA Intelli-flav OMS 5 seasoning system took center-stage. The machine provides powder flavoring and liquid oil in a single drum and has a new oil spray mechanism.
Co-branding
Orihiro sells an estimated 100 machines every year through Sealed Air in a co-branding arrangement that gives the company worldwide markets where it lacks the capability to service machines. "In Japan and Asia we sell for ourselves," confirms Mark Tsuruta, senior managing director at Orihiro. The company, which started life as a food manufacturer and continues to market a popular self-branded fruity gel snack, is working on a "breakthrough" product that its expertise in vf/f/s technology makes possible.
Claims Tsuruta: "Nobody has a system that produces aseptic packaging for acidic products, and the next target is a dairy dessert in aseptic packaging." He says the move follows Japanese tastes, which are leaning towards more healthful nutritional snacks with lower levels of sugar and salt content and no additives.
A newly simplified and easy-to-operate Orihiro On Pack A2 is suitable for low-acid, high-protein products, including dairy and soy-based products up to volumes of 10 L for foodservice applications and spouted packs up to 125 g. The development of a multi-head filler this year will complete the project says Tsuruta. Peroxide gas has replaced liquid peroxide or film sterilization. Because it's dry, the gas minimizes heating that can damage the material. In addition, spouted packs no longer carry residual peroxide, and sterilization in place (SIP) halves the time to sterilize material while speeding up pre-production.
For water and condiments, the Orihiro Onpack T1000 runs with odor-free nylon/polyester film. American customers use the machine for foodservice ketchup and mustard as part of Orihiro's under-the-counter dispensing system. It is also sold to China. For office water supplies, the Orihiro system offers a high-tech alternative to the reusable polycarbonate bottle. It's a proprietary lightweight disposable pack that potentially offers savings in transport fuel and that is space-efficient. A proprietary process involves a double-wound material that ensures the inside face is already sterilised avoiding UV light and produced in a "cleanroom-quality" environment, previously heated to 200°C. It is presented as a tube made up into a long film, which is sourced from various suppliers of coextruded films.
Also promoted was the Orihiro Onpack 2098, designed to produce 20-L bags for a bag-in-box system aimed at foodservice customers, and used for everyday kitchen ingredients such as sauces and condiments. The "market-oriented" development had secured four purchase orders ahead of the show and "a hundred companies" have shown interest, including "one of the largest film packaging suppliers," reports Tsuruta. A volumetric system supports the pouch to weigh and protect it. Double-wound for strength, the film easily pulls apart at the point of use.
Taisei Lamick is building on a 50 percent share in Japan for single-use foodservice sachets and markets in the U.S. and South East Asia with advances in vf/f/s technology that were unveiled at the show ahead of their April 2018 launch. Claimed a sector "first" is a dual-use Dangan G2 that produces standup pouches. According to Ichiro Tomita, head of Dangan and production HQ at Taisei, the Inst Pouch has the advantages of no headspace and a capability to use easy-open film. With a simple change of module the same machine is ready to roll out standard sachets. A prototype for smaller size pouches was market-tested at Tokyo Pack 2016, which influenced a decision to increase pack sizes to 40-160 mm x 75-150 mm. Output speeds up to 90 ppm make it faster than rotary and the cost of buying on the roll is "much lower" says Tomita. The move into big pouches continues with the Dangan LA Plus, offering fast filling with no leakers at 50 ppm and easy product changeover without tooling, sizes between 330-530mm wide, 200-400mm long and 500-3000g. Companion Yaskawa robotics for checkweighing and pick-and-place can be supplied in a separate unit. Also featured was the upgraded Dangan G2 Dix-eye camera-based leak detection system, now suitable for applications using aluminum foil and metallizd film in addition to transparent film. The technology by France-based TTK can be retro-installed to a customer's existing machine.
Reclosable zippers
A new zipper system for pillow pouches is designed to give a straight, smooth-cut edge, and it can also speed up the bag-making process, claims the developer Fujitoku. Smart Cut technology uses a three-layer lamination made up of LLDPE/PET/LLDPE or CPP/PET/CPP that provides a thinner base for the extruded resin. In a conventional zipper structure the base film is made from a thick resin. When used, Fujitoku special sales division executive Hiroshi Umemoto explains: "We cut not only film of the pillow pouch, but also the edge of the zipper part."
Maruto Sangyo also displayed zippered pouch technology that guarantees a hand-torn clean straight edge. Scissors are redundant in a Chokushin Kun (translated as Mr. Straight). Inverted v-shaped perforations are arranged in three rows on the surface of a 2-4 layer film that function as stoppers and ensure a straight tear every time.
International Division Director Koichi Haraguchi also demonstrated a double-sachet system designed for two different products with potential uses in food- and non-food applications. When the pack is squeezed, the contents mix together. The combination can be a wet and a dry product, as in a cosmetics face-mask. An existing user in the medical sector is combining solid CaCO3 (lime) plus a liquid to create a chemical reaction, says Haraguchi, though he is unable to identify the customer.
The mixing action is achieved by introducing two melting points. "It's not normally possible to create two different seal strengths in one pack. The higher melting point creates a stronger sealed portion," says Haraguchi. The pump and feeder are changed according to the viscosity and type of products being filled. Running speeds can reach 12 m/min. Maruto is working on a retortable pouch that shows temperature change in the factory and in transit, to avoid unprocessed pouches reaching the consumer.
A compact 22-M, fully-enclosed automated flow-wrapping line by Omori landed honors in the 2017 Japan Pack Awards at its first public appearance. Model S5000X BXE comprises a series of modules positioned on a platform including robotic casing and final palletizing. It took a year to develop and a customized line takes four to five months to build, says International Sales Executive Yoshiki Sakurai.
In 2015 Omori introduced h/f/f/s machinery for a resealable envelope-style flow-wrap pack for deli meats and cheeses. It involves feeding two barrier films into the machine that overlap with a lap seal and a pressure-sensitive tape yielding a hermetic seal with a reclosable functionality. The envelope-style package gives the look of back-room production and conveys an image of product quality and freshness to the consumer. The envelope-style package has up to a 50% material reduction versus conventional thermoformed packages, and can achieve residual O2 levels of <0.3% for extended shelf life. This package has been commercialized at several retailers in Europe.
The films used in this application are high-barrier laminations incorporating reverse-printed PET and easy peal sealants. Bemis (www.bemis.com) is a major supplier to the aforementioned retail applications, using a tactile feel film they market as Paper-Like™, which was described at some length in a recent Packaging World story about Swiss meat producer Bigler AG Fleischwaren (see pwgo.to/3259). Omori's Jun Takizawa, International Sales Assistant Manager, has indicated that this envelope style package will be introduced to the North American market in 2018, along with a new system they call BellPack. BellPack incorporates a more traditional 4-side seal configuration and a label reclose system. Each of these package designs touch the market trends of Quality, Freshness, Convenience, and Sustainability, so this new technology from Omori and Bemis bears watching.
Yaskawa launched Motomini in July 2017, a small six-axis robot weighing 7 kg and having a payload limit of 500 g with representative speed of 5.5 radius/sec and 315 degrees/sec. A demo choreographed to impress onlookers showed it spelling out "welcome" on command in English or Japanese or Chinese characters by picking and placing cubes in the correct orientation. In normal operation, it works remotely by a wireless internet system such as Bluetooth.
Fanuc unveiled a new tablet-based operating system for the CR-7iA, a free-roaming robotic workmate for packaging line operators that goes on sale in the first half of 2018, suitable for iPad- and android. Alongside it was the Fanuc LR mate 200i D, a new-concept robot with a "deep learning" function to improve picking rate, which integrates technology by Preferred Networks, a Japanese AI company known for its work with carmaker Toyota and Japanese telecoms company NTT. Also displayed was the 144 pc/min Fanuc M-2iA3 pick-and-place robot with camera and a pulse coder that detects the speed of the conveyor so the data is used to adjust the robot's speed accordingly.
Central spout for refill pouch
The retail scene in Japan is a riot of packaging innovation and variety, especially in the convenience stores that are found everywhere. One category-disrupting refill pouch spotted on an editorial shopping trip was for a Biore body wash by Kao. It's a compact design with a central spout. Because the shape is familiar in beverages but new to personal care, it carries a prominent warning not to drink from it. pw
Companies in this article