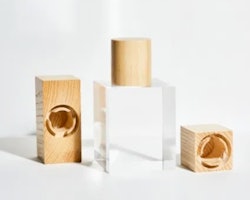 The designs obviate the need for a plastic insert, for ultimate circularity. Initially comprising three proprietary designs, the flagship of the range is a world first, with a unique internal structure, subject to a global patent.
"Our experts have effectively mechanized wood," said Quadpack Head of Categories Pierre-Antoine Henry. "Woodacity elevates this natural material beyond the aesthetic, to become a fully-functional component of a beauty packaging solution. This full-wood innovation is the first of its kind, bringing sustainable added value to beauty brands."
Woodacity offers the same functional properties and stability as plastic, along with the sustainable and aesthetic qualities of wood. A strict industrial process ensures perfect performance, from storage in controlled conditions, through drying and shaping, all the way to lacquering and decoration. The result is a stunning range of monomaterial closures that add pure natural luxury to any fragrance bottle.
Three systems are available, all made in Europe at the Quadpack Wood factory, using wood sourced from sustainably-managed forests:
Solo Snap: A globally patented snap-on cap, with a unique pattern of interior ribs and a secure 'click' closure.
Solo Push: A globally patented friction fit cap, that closes the pack with a smooth push gesture.
Solo Turn: A thread cap with a screw closure, perfectly matched with Quadpack's Regula Glass jar, also made in Europe.
Companies in this article