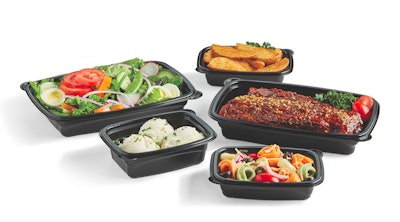 Placon, a North American plastic packaging designer and manufacturer, launched its newest product as part of its HomeFresh® stock food packaging line. The HomeFresh Entrée containers bring a new, modern look and functionality to hot meal offerings.
Made from microwave-friendly polypropylene, the new containers easily go from the store to the kitchen table without re-plating.
"Freshly prepared, grab-and-go foods are in great demand in the current market," says Ben Brummerhop, Placon's Stock Food Sales Manager. "The new HomeFresh® Entrée containers meet the needs of the end user by providing an entire meal through convenience and functionality."
The new microwavable containers include unique modular stacking features and allow the products to double stack and inter stack together. Perfectly sized to fit into standard small and large carryout bags, the containers won't slide and spill and deep snap grooves allow the lids to close securely with an audible snap, while still opening easily. Additionally, the containers are reusable and recyclable.
Available in five sleek stacking sizes from 8 to 32 ounces, the sealable containers also include a variety of lid options offering additional product versatility and merchandising options. Hot dish lids made from polypropylene come in two sizes, with and without vents. A PET lid option, made from EcoStar® post-consumer recycled PET, is also available for cold-case food applications.
Companies in this article