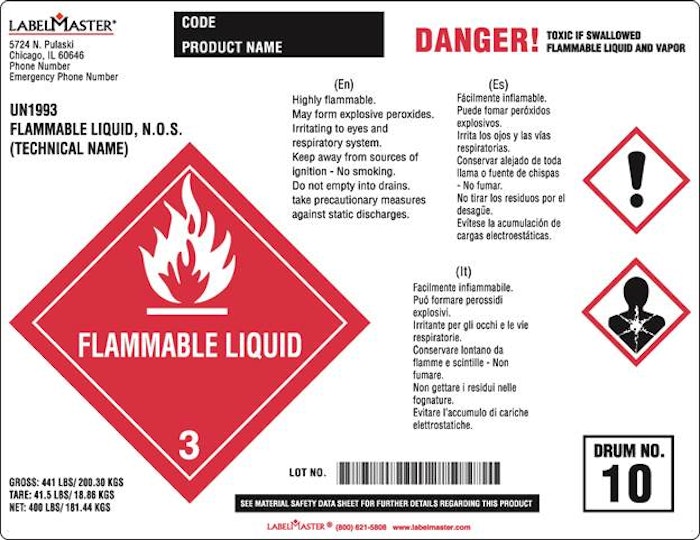 Labels that carry a strong electrostatic charge add unwanted risk when labeling in fuel-rich, volatile vapor-filled environments. To make hazardous materials labeling safer and protect workers, Labelmaster has developed durable anti-static drum labels—called electrostatic dissipative (ESD) labels—made of materials that naturally dissipate static charges faster than traditional vinyl drum labels.
In certain industrial settings, such as chemical plants and coatings manufacturing facilities, mitigating the effects of static electricity in the labeling process and elsewhere is critical. Traditional laser printing is an electrostatic process that actually adds additional charge to labels as toner inks are bonded to label surfaces."
A static discharge is generated when a label is separated from its liner and then applied to a container. Labelmaster's ESD drum labels feature a material that rapidly reduces the potential for static discharge during label application. This is important because a static charge could potentially ignite vapors surrounding a container as it's being labeled.
Labelmaster's ultra-porous, super static-absorbent ESD labels reduce the time a label holds a charge during printing, application and removal. The labels also reduce the charge buildup on a label after it's been applied, thereby lessening the chances for future discharges.
In addition to its anti-static measures, the ESD labels are designed to withstand rough handling, harsh chemicals, extreme temperatures, UV exposure, moisture, scraping and abrasion.
The ESD labels are tear resistant, impervious to abrasion, resist chemicals, solvents and water, and said to be virtually indestructible. They are suited for painted steel, fiber or plastic drums, and are safer for hazardous environments.
Labelmaster's ESD labels are available in up to four colors and can be customized and personalized to include all of the information needed including DOT Hazard Class and GHS information. Measuring 8 3/8 x 14 7/8 in. and 8 3/8 x 10 7/8 in., they are sold in packs of 250.
Companies in this article