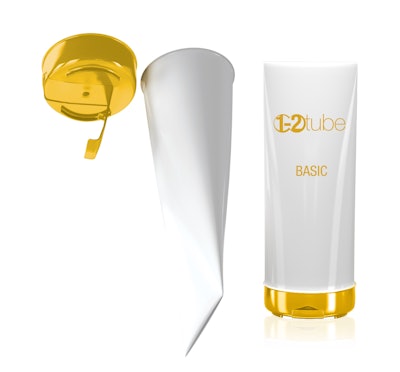 Rinze Willemsen, entrepreneur, and Corné van Baal, injection molder, are the developers of the 1-2Tube. This product is approximately 40% lighter than normal plastic extrusion tubes and offers free-form design. The 1-2Tube can be produced on every standard injection molding machine.
It takes five to six steps to manufacture an "extrusion tube" and Corné van Baal believed that it should be possible to make this type of tube much more efficiently. Corné is the owner of an injection molding company called Appkuns, in Oosterhout, The Netherlands. He shared his thoughts with entrepreneur and business innovator Rinze Willemsen, and after just one day Rinze came up with the 1-2Tube idea.
The idea was to injection mold the tube and the hinged closure in one step and with one injection molding tool. On the filling line, the tube will be filled from the top, and the hinged lid will be closed and sealed with ultrasonic equipment.
Rinze explains: "The wall thickness of the tube can be thinner when injection molding and the tube closure uses far less material as it is not screwed or snapped onto the tube—but sealed. The resulting benefit of this is that the tube itself has no narrow neck for the thread or snap beads, which use extra material on standard extrusion tubes. These are the factors that allow the 1-2Tube to be up to 40% lighter."
Corné explains: "One-piece injection molded tubes are already known in the market, however the disadvantages of the existing techniques are that they produce at low speed and are restricted by licenses. Also, just as normal extrusion tubes, they still need to be assembled from various parts. The 1-2Tube is only made from one piece. The only steps needed to complete production are injection molding, filling, and sealing. And also with IML, labels can be added to the tubes in the injection molding process."
To obtain a really competitive cost price for the 1-2Tube, a 60-cavity tool will be used and to start we will make a smaller pilot tool to injection mold tubes for use in Hotels. Appkuns has now developed four different shape designs for the 1-2Tube.
The "Basic" design is impossible to make with normal extrusion tubes, because after filling, these tubes have to be squeezed together at the bottom to seal and this process always makes this end of the tube wider than the closure end.The "Eco" variant design has an extra flat closure resulting in a 40% saving on material. The "Elegant" design uses the full freedom of expression that can be exploited by the 1-2Tube's innovative manufacturing technique. With a tapered shape, angled and asymmetrical, almost anything is possible.
Lastly, the "Special" design uses injection molding techniques where various different materials can be combined. For example, the closure can be injection molded with PP and the tube part can be molded with a soft flexible plastic, and in two different colors.
Companies in this article