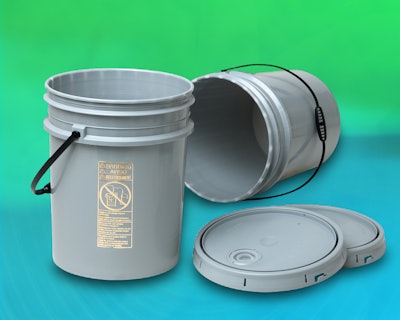 The Tri-Seal Cover can be used anywhere a typical gasketed cover is used.  No special capping equipment is needed. It works with standard rigid-plastic pails and is a drop-in replacement for a standard gasketed cover on most filling lines, with only minor adjustments to existing capping equipment.  Since the Tri-Seal Cover eliminates the need for a gasket, concerns with gasket twisting, incomplete seating, and gasket rebounding are averted. 
The patented design of the molded Tri-Seal Cover comprises a primary inner plug "cork" seal that is unaffected by changing top loads; a secondary top "flap" seal that engages the lip of the pail; and a tertiary outer "stretch" seal for added security.  In a battery of tests including recover, drop, shake, stack, compression, crack-resistance, etc., the Tri-Seal Cover performed as well or better on five-gallon pails than a typical gasketed cover, according to the company.  For instance, pails with the Tri-Seal Cover showed increase stacking strength when compared with standard gasketed covers.
The Tri-Seal Cover is also environmentally friendly.  Eliminating the non-recyclable ethylene propylene diene monomer (EPDM) rubber gasket allows the 100% high-density polyethylene (HDPE) cover to be fully recyclable with the pail.  In addition, the cover may be combined with the TwinShot pail, a BWAY exclusive technology that provides the ability to add up to 50% post-consumer regrind (PCR) content to meet legislative requirements.
Available in numerous shapes and sizes, BWAY containers hold a wide variety of products, including paints, coatings, construction supplies, janitorial supplies, lubricants, adhesives, automotive additives, detergents, foods, and specialty chemicals. 
Companies in this article