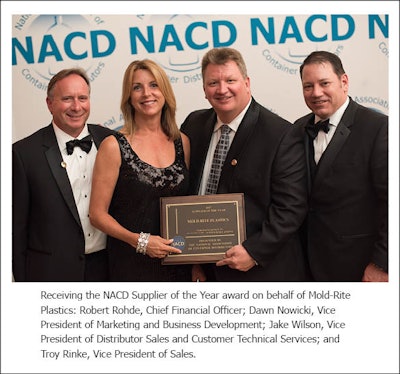 The National Association of Container Distributors (NACD) has named Mold-Rite Plastics as the Supplier of the Year at its annual convention in Napa, CA. The NACD Supplier of the Year award is given to the supplier who has most effectively supported distribution within the container industry. It is one of the industry's most coveted recognitions and is NACD's way of honoring a supplier who has made valuable contributions to the distribution channel, according to NACD.
"Mold-Rite Plastics continues to demonstrate all values required for the Supplier of the Year and it is with great honor that they have once again achieved this recognition for their service to our association," says Gary Burns, Chairman of the Board of NACD.
To determine the winner each year, the association's distributor members rate suppliers on the following categories: leadership, marketing, training, technology, legislative and regulatory, communication, policies, product shipment, and product support.
"Receiving this award is such an honor for the entire Mold-Rite team. Our mission is to delight our customers with the best customer experience by being fast, flexible and responsive. Ultimately, we want our customers to trust that Mold-Rite will service them well and help them grow their business. This award serves to validate our model and inspires us to work even harder on behalf of our customers." says Brian Bauerbach, President and CEO or Mold-Rite Plastics.
Companies in this article