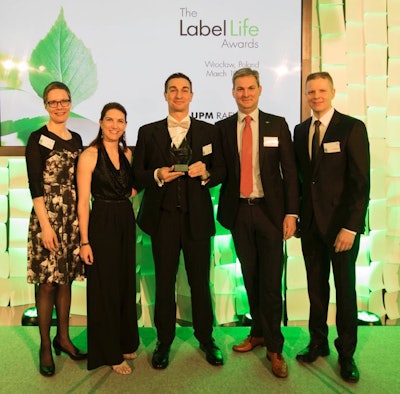 Dow Packaging and Specialty Plastics, a business unit of The Dow Chemical Company, was awarded the Label Life Sustainability Award 2016 by UPM Raflatac, one of the world's leading producers of self-adhesive label materials. Dow was recognized for its best-in-class sustainability practices across the industry's value chain.
Dow's Marco Amici, EMEA Sustainability marketing leader Packaging, and Courtney Fretz, EMEA sales director for Dow Adhesives, presented The Dow Chemical Sustainability Footprint Tool that helps Dow employees and other players in the industry bring sustainability into the innovation process and assess cost- benefits before real investment is undertaken.
"This simple tool helps evaluate innovation projects through different dimensions of sustainability: social, economic, organizational, greenhouse gas emissions, water and resource efficiency," states Marco Amici. "It also facilitates sustainability education across the company as well as collaboration throughout the whole value chain. I believe all these features combined were key to win this prestigious recognition."
Dow's industry-wide collaboration approach outshines strong competition
During the event, hosted at UPM Raflatac's Wrocław factory in Poland, all four Label Life Awards finalists were faced with a round of rigorous questioning from jury members—among them UPM Raflatac high-level executives, WWF Poland's Head of Conservation, and a renowned Professor in Corporate Environmental Management from the University of Jyväskylä, Finland. Other finalists were DRT, Henkel, and Mondi.
Dana Mosora, Director for Sustainability and Advocacy for Dow's Packaging and Specialty Plastics, EMEA, comments: "Recognizing Dow's legacy of innovation, leadership and action in sustainability, this award is yet another proof point that proves that strong team collaboration and a sophisticated, yet applicable concept, we can move the needle to achieve sustainable growth."
Pictured is the Dow team Courtney Fretz (2nd from left), Marco Amici (3rd from left), and Patrick van Leeuwen (2nd 
from right) accepting the Label Life Award from jury members Nina Norjama, Director Responsibility Development and Support, UPM-Kymmene Corporation (far left) and Jani Konkarikoski, Director, Operations Development, EMEIA, UPM Raflatac (far right). UPM Raflatac's Label Life concept has been developed to help stakeholders understand the social and environmental impact of labels through the whole life cycle. Learn more about Label Life at upmraflatac.com.
Companies in this article