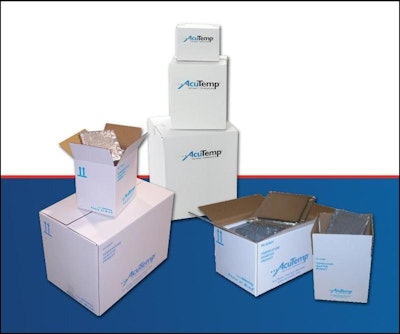 AcuTemp Thermal Systems' expanded frozen solution offering is comprised of 27 payload sizes, with durations that range from 24 to 192 hours. The AcuTemp design allows for a significant reduction in the amount of dry ice needed. Thermal testing has shown that for the same payload and duration, there is an average reduction of up to 88% over EPS and a 67% reduction over PUR. This results in substantial supply chain savings.
There are many challenges associated with dry ice including handling, cost, and availability. Many airlines and forwarders are increasing the overall freight capacity but decreasing dry ice capacity, increasing the possibility of dry ice shipments being "bumped". However, shippers of frozen products want the consistency they receive with dry ice and there is nothing better than being able to provide the performance of dry ice required by shippers and offering solutions that reduce total systemic costs, but doing so in a way that results in a better solution.
These significant dry ice reductions are possible because AcuTemp packaging utilizes ThermoCor® vacuum insulation in a patented molded design that results in less dry ice, smaller packaging size, longer hold times, larger payloads and superior temperature control, resulting in lower overall costs. In addition to thermal efficiency, the lightweight and less bulky features of ThermoCor allow for a high degree of design flexibility.